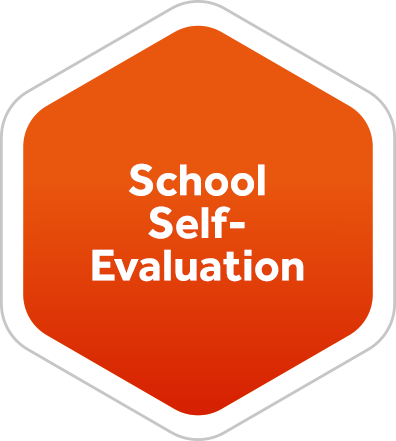 Self-evaluation contributes to school improvement as it provides a regular assessment of how your school is performing. Effective self-evaluation identifies priorities and leads to evidence based school improvement planning. Key priorities seamlessly link to staff and evidence in your school improvement plan. This centralised approach allows self-evaluation to become embedded in your school.
In order to structure this effectively, there are a number of templates which can be utilised:
Ofsted Forms

Independent Schools Inspectorate (ISI)

ASCL Forms - devised by Tony Thornley

Any bespoke template of your choice
All of these templates are available in our software, SchooliP. This is a comprehensive performance package that allows whole school and departmental self-evaluation to be carried out electronically. Our self-evaluation form is split into sections and questions. Sections are assigned to staff for their attention and there is a workflow which ensures that key sections are reviewed at prescribed intervals.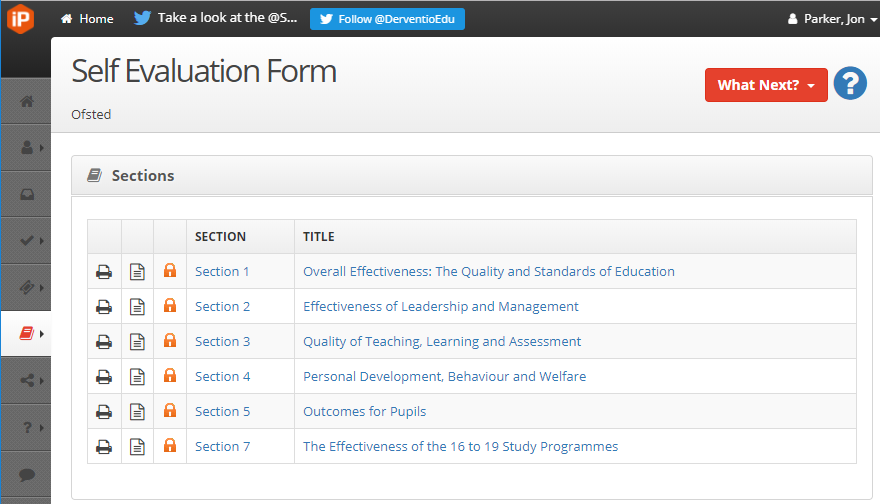 Notifications can be sent to staff members to ensure that they are aware of their workload. Each time a member of staff makes a change an audit trail is maintained. This allows schools to collaborate with all leaders, allowing them to make changes, safe in the knowledge that previous responses will be maintained. The evidence for self-evaluation may be uploaded alongside the responses or the school may choose to simply link to evidence that is contained within their school development plan.
SchooliP's rigorous approach to self-evaluation means that a senior leadership team will be able to answer the following questions in full.
How well are we doing?

How do we know?

What do we need to do next to secure further improvement?
The structure of SchooliP means that all information is captured in one centralised place. Self-evaluation becomes a fully integrated process that fosters a culture of accountability. Most importantly, it identifies how further improvements can be achieved.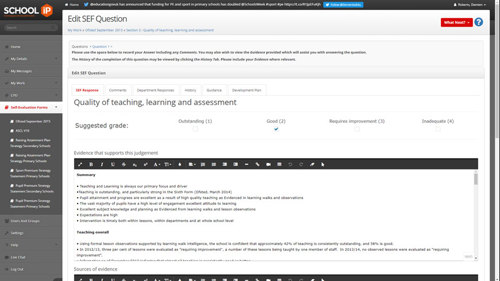 To find out more about SchooliP, the simplest way to manage teacher and staff appraisal in schools, please get in touch.
Call 0333 0433 450 to speak to one of our sales representatives or email: info@derventioeducation.com.
Alternatively, click here to arrange a demonstration.