What are the challenges posed to Education during COVID-19?
The COVID-19 pandemic is causing schools and colleges to have to operate in highly challenging and rapidly changing circumstances. Schools and colleges are faced with a number of challenging questions that include:
How are we ensuring our children and young people are receiving a quality educational provision?

How are teachers coping and what support is needed?

Do the teachers know if they are delivering quality teaching?

Will monitoring increase the pressure on the teaching staff?

How do we monitor online delivery?

How can iP support your organisation during COVID-19?

We need to be flexible and creative in our use of technology now more than ever in order to operate on a near as normal basis.  IP has the tools to support not only School Performance Management Processes and Teaching and Learning, but also it provides the tools for staff welfare in a variety of ways:-
iP Self-Reflective Forms.
iP Staff Well-Being Forms and Surveys.
iP Sharing of relevant documents.
iP Collaborators for pastoral/mental health support
iP Video Annotation Tool in conjunction with your MS Teams/Zoom lessons to support T & L.  See the articles on our website for further details:-
Using Self-Reflective Forms during COVID-19

Many schools and colleges are choosing to pursue a route that develops the staff through self-review and reflection of relevant areas of teaching and learning in the classroom. The staff feel empowered, confident and are willing to reflect on their own teaching and wellbeing, where the outcomes are used for professional development.  During these times, they are simple and easy to administer, negating the necessity to cross-over 'social bubbles' unlike more traditional types of monitoring and support. 
Wellbeing Surveys during COVID-19

Feelings of wellbeing are fundamental to the overall health of an individual, enabling them to successfully overcome difficulties in their work and private life.  Many schools and colleges have introduced a staff wellbeing survey, to help understand key issues staff are experiencing during these unprecedented times and the impact of any measures school/college is taking to support staff wellbeing.  Some have even introduced a periodic staff survey to keep track of any change over time.
How do you create a Form or Survey in iP?

Simply review any existing forms you wish to use on iP and email them to us at customercare@derventioeducation.com.  We'll do the rest!  Alternatively, book in an online support call here https://www.derventioeducation.com/book-a-meeting 
against my name and I can share examples with you and discuss your organisation's needs.
How are Forms and Surveys assigned?
Depending on the type, management and frequency of a form or survey depends on how you set it up.  Either an iP Administrator or Manager/other with appropriate use rights can assign forms.  There's even a setting for the end-user to assign forms to themselves if this is appropriate.  The forms need to be set as a 'Self Observation' in order for the end-user to self-complete.
What is the benefit of using iP to manage Forms and Surveys?
A wealth of data can be gleaned by those in school who have access to 'My Reports' in iP, usually the Leadership Team, in order to respond and support appropriately.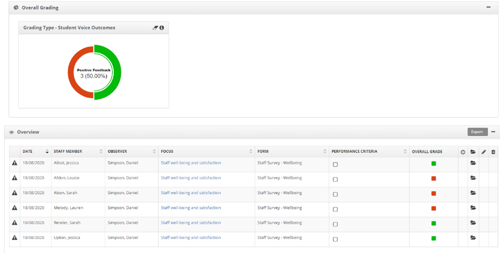 iP Sharing of relevant documents during COVID-19
Information sharing is an important aspect of all school/college professional life and now, clear guidance and policies are more important than ever.  Many iP schools and colleges are using this functionality to share COVID-19 response information and well-being advice.
How do you share documents?
First, a user has to add the file you wish to share as Evidence.  In the Work Area, drag any file into the upload box.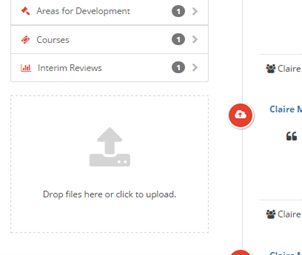 Or Click on What Next > Add Evidence.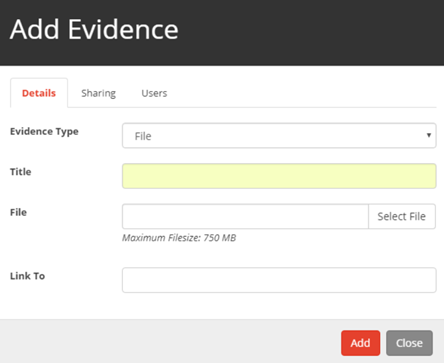 Sharing your File/Evidence:

You can now choose to share your Evidence with other specific users, your school, your school trust or the whole of the SchooliP community.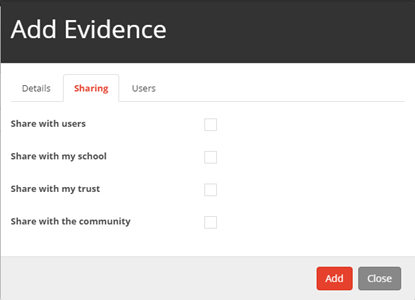 How is iP used for Collaboration during COVID-19?
A Collaborator can be set up for several purposes in iP.  Many of our iP Schools and Colleges have set up well-being and pastoral Collaborators to support colleagues during these difficult times presented to us by COVID-19.  Collaborators can be set up to view and edit selected sections of a staff member's Performance Management in my work area.  
What does the SchooliP Administrator need to do to set this up? 
To turn Collaboration on,  the 'SchooliP Administrator' will be required to access; Settings > General Settings  Details > Global Settings. 
The Collaborator settings are found under the 'General Review Settings' subtitle.

It is advisable to 'tick' the first two options, as this will allow individuals to be set up as collaborators, but take care if and when selecting the third. 
Click on 'What Next' at the top left of the page and 'Save'.

How does the Line Manager set this up for staff? 
Any staff that you collaborate with will show in the 'My Staff' section of the menu. Collaborators can be added by Administrators or Line Managers
On the Home page, click on the My Staff tab.
Click on the name of the person with the review that you would like to add the collaborator to.
Click on What Next? and select View Staff Summary.
Click on the Collaborators tab.
Click on What Next?, and then Add Collaborator.
You can use the Subject and User Group dropdowns to filter the staff list to only show people from specific areas.
Click in the Collaborator box and select the staff member that you would like to add as a collaborator.
Click on the 'Rights Tab', Select and Save the appropriate Rights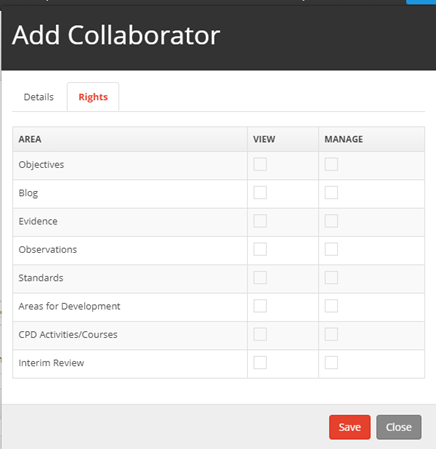 The Collaborator will then see the new Staff Member name here:-
Home > My Staff > All My Staff
Collaboration can now occur in the areas they have been given permission to view/manage.  
How does the Staff Member see who is collaborating with them? 
The Staff Member can see a list of additional Collaborators in their Work Area.

Find out more
Talk to our team today to find out how Derventio Education software can support you and your colleagues.
Book a Demo