Video Lesson Observations
The Benefits
Our iP software now has the potential to utilise video recording of lessons. This means that a permanent record of a lesson can be created for reflection and feedback in SchooliP and CollegeiP. Below is an outline of the benefits of this development in our software.
Timeline Feature
The timeline feature allows annotations to be attributed to exact moments in a lesson. This means that feedback has greater meaning and clips of the recording can be reviewed to ensure greater clarity and improve understanding. Self reflective comments can also be added. The accuracy of lesson observations can be improved significantly as feedback does not need to be rushed. Likewise, feedback can be targeting at specific moments during a lesson, for example, reviewing a plenary activity.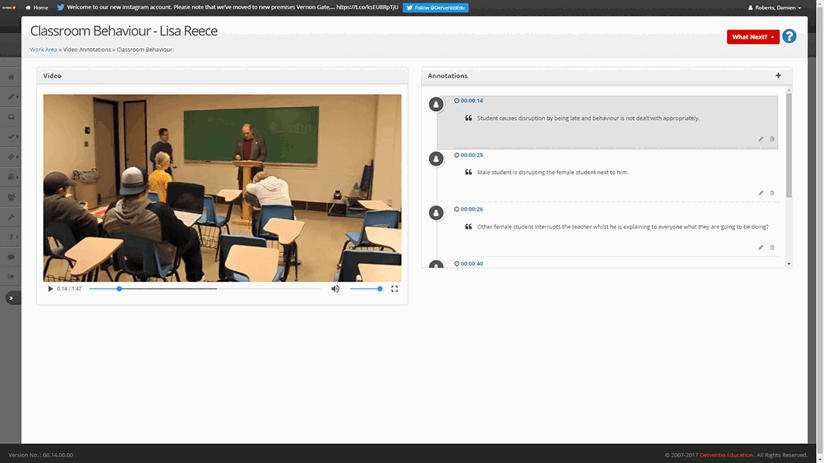 Recording Feature
The recording feature means that the observer does not actually have to be in classroom at the time of delivery. Whilst observed lessons have a tendency to be a little staged, video lesson observation can help to create a more natural atmosphere. Likewise, the recording can be observed by a number of colleagues. Comments can be left by multiple parties and a consensus can be achieved. This can help leadership teams to arrive at a collective judgement on the standards that are desired in the classroom.
Security Feature
We understand that there may be some concerns from members of staff regarding who can see recordings of their teaching. Permission settings ensure that recorded lessons are only available to the intended parties. Videos can be shared to demonstrate best practice. This can be particularly helpful to newly qualified members of staff who wish to see good teaching to aspire to.
Bespoke Features
The bespoke nature of our iP software means that different types of annotation categories can be implemented into the software. For instance, student questioning, time management and behaviour management can be areas of focus. The categories can relate to whole school priorities and help to encourage reflective practice.
Summary
Overall, video lesson observations are a great means of generating a more reflective culture. Education is changing in front of our eyes and the recording of lessons is likely to become more and more common as distance learning increases. At present, it is an opportunity to enhance teaching to help provide more purposeful learning for students.
Contact Us
To find out more about the iP suite of software and our lesson observation feature, please do call us on 0333 0433 450 or contact us via email: info@derventioeducation.com.