Heightened internet security
from Derventio Education
Internet Security
Internet security is paramount to any web based software solution and we take this aspect of our products very seriously.
Secure Site
Firstly, the whole of the site is secured using SSL. SSL (Secure Sockets Layer) is the standard security technology for establishing an encrypted link between a web server and a browser. This link ensures that all data passed between the web server and browsers remains private and integral. SSL is an industry standard and is used by millions of websites in the protection of their online transactions with their customers.
Single Sign On
SchooliP and CollegeiP can be configured to take login information direct from your network - this means that all information is kept within your establishment. The user still provides their login details to the standard login screen, but this information is then securely transmitted to the network to verify the account.  
Single sign on does require our support department to talk to your IT department to configure the secure link, but once setup this provides the most secure login process.
This feature is included free of charge within your SchooliP or CollegeiP subscription.
Two Factor Authentication
Both SchooliP and CollegeiP can be configured to force the user to provide a second form of identification as part of the login process. We support two modes of two factor authentication - email and Google Authenticator.
Firstly turn on the mode within settings.

By default, this turns on the email notification. When the user next attempts to login into the software - they will be required to enter an authentication code.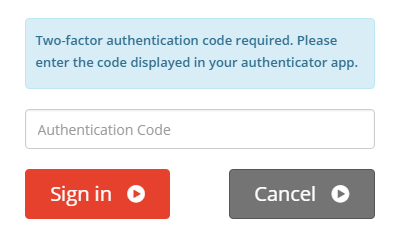 The code will be sent to the user's email address - once the code has been received it can be entered into the screen and access will be granted.
The second option is to use the mobile application - Google Authenticator. This is a personal option within the software and can be set within your mobile device.

If this option is selected then the user needs to install the mobile application to their mobile device.

When the user attempts to login - they will be prompted for an authentication code. This time they need to go to their mobile device and open the application. The code provided needs to be entered to gain access to the software.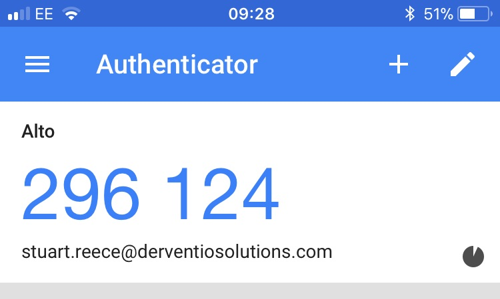 This feature is included free of charge within your subscription.
Password Security
The level and complexity of the password used by your users can be controlled within the settings area of the software.

Using a combination of the options - the user can be forced to change their password on a periodic basis, prevented from using previous passwords and most importantly forced to provide a strong password.
If you would like more information about setting up the various password options, then please contact customercare@derventioeducation.com