Capturing Surveys from Key Stakeholders
Capturing Surveys in SchooliP and CollegeiP from key stakeholders like pupils/students, parents and staff could not be simpler.
In this example, we shall look at an implementation of the Parent View survey. Schools and colleges can use it to encourage parents and carers to share their experiences of their child's setting in a controlled manner so that leadership can gain a picture of key stakeholders opinions, and implement a strategy to improve in readiness for inspection and review.
In SchooliP and CollegeiP you can define your own forms and a series of questions designed to gain a picture of the views of your stakeholders. You can choose from a bank of our existing templates and build upon them or design your own from scratch.
Here is an example of an implementation of the Ofsted Parent View which is available in our templates.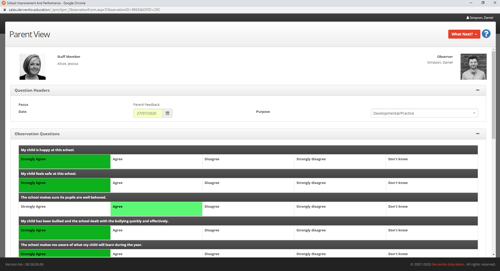 SchooliP and CollegeiP have a wealth of monitoring templates for monitoring pupils/students, parents and staff which contribute to the fuller picture provided by the new "deep dive" process.
If you'd like to discuss how we can help with capturing surveys please call +44 (0) 333 0433 450 or email info@derventioeducation.com.
Find out more
Talk to our team today to find out how Derventio Education software can support you and your colleagues.
Book a Demo