"Inspectors could see how our priorities are being implemented."
In 2010, the senior leadership team at Tupton Hall School in Chesterfield, Derbyshire identified an issue with their 'Teaching & Learning'. They felt that shortcomings in their systems were holding the school back from achieving the Ofsted gradings they were capable of.
The school was using a series of 'Word' based systems for self-evaluation, staff appraisal and the school's development plan. Because they were not linked in anyway, it was very difficult for the team to get a holistic view of the school's performance. For example, an appraisal may have taken place for individual teachers and objectives would be identified, but the reality was that there was no on-going monitoring, evaluation and feedback so that there was the inevitable rush prior to the next appraisal. None of this was linked to the school improvement plan in any tangible way and therefore many of the objectives would not necessarily be helping the school as a whole.
Furthermore, any courses that teachers were sent on where somewhat arbitrary and not necessarily linked to the skills required. Training budgets were difficult to plan and control and teachers may have been sent on courses that were not appropriate for the school's needs and may even have been of poor quality. Whether a course was approved was somewhat of a 'lucky dip' as it was dependent on the approval of the line manager, following a verbal conversation.
It was agreed that an electronic system was required to link the various aspects; the option of one of the school's network technicians writing a system was ruled out an early stage due to workload pressures. Nick Melton, Assistant Headteacher with responsibility for ICT, assessment and QA spearheaded the research process.
He looked at purchasing a low cost 'stand alone' program from another school, which had been developed by a network manager. However, it was essentially a front interface over more Word documents, was not deemed appropriate and ruled out at an early stage. Nick spoke to colleagues in a national ICT network and trialled a system from another school, which was hosted on their own intranet, but was again deemed lacking in functionality.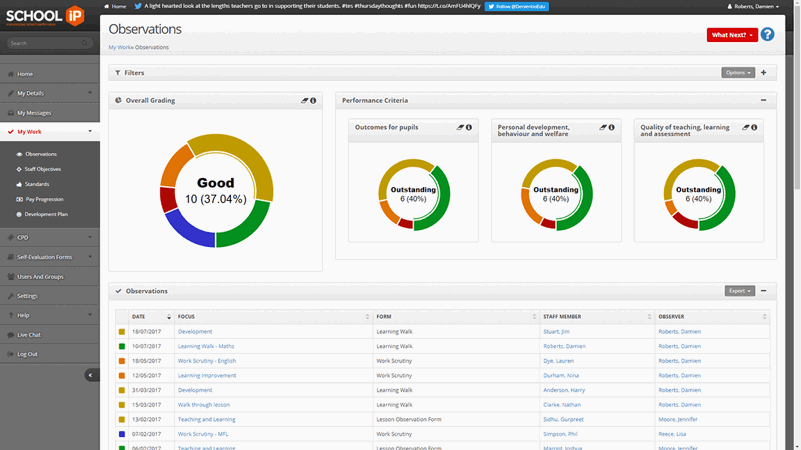 After advice from an ICT colleague at another school, Nick short-listed and requested demonstrations of three dedicated systems. Following that process, he decided on the SchooliP cloud based solution.
The system was implemented in spring 2012 and went live in September 2012 at the start of the academic year. Part of the service from the software developers involves the import of the school's own data; this included the School Improvement Plan and their Self Evaluation Form, which was based on the 2012 ASCL SEF. The SchooliP team also imported details of the 133 teaching staff, along with the reporting structure as well as their individual objectives. It also included the school's own lesson observation grid.
At the start of term, Nick and his ICT team, in conjunction with Damien Roberts from SchooliP, provided training on the system over the course of a day. Teachers were then given disaggregated time to put in their own review data.
Although the initial reaction was some concern over workload, particularly by one of the Union Representatives, she very quickly saw the merits of the system and could see that it would actually make the review process easier and more effective for teachers, as well as the leadership team. Indeed, she gave a favourable recommendation for the system at a meeting of all the teachers.
The next stage was to import the following year's targets and teachers were again given disaggregated time to complete the task. This set the theme and focus of observed lessons. Additionally, any staff developmental issues were identified and logged in the system.
Previously, staff carrying out a lesson observation made notes whilst observing the lesson and imported the data later, however there is the option, where the network infrastructure exists, for lesson observations to be imported directly into SchooliP on a laptop or tablet. The system also allows for links to video recording to be included and plans are being made for the system to be directly linked to dedicated video observation systems such as Iris Connect and Star Lesson.
With regard to professional development of staff, the whole process of addressing these areas of need stem from the either the whole school improvement plan or a personal request. Areas for development are highlighted and held centrally within the system. The CPD coordinator is then able to assign appropriate actions to such requests, including courses, peer mentoring or coaching. The advantage of this is that all professional development is recorded and fully mapped against the school improvement. Equally it ensures the CPD coordinator is able to strategically match what the school needs, with what staff access.
The team is now working with the school to develop a method of evaluating CPD undertaken, to ensure that the impact of such programmes is fully appraised and again linked back to the school improvement plan.
We can now more effectively implement our mentoring and coaching plans, based on the output of SchooliP.

Nick Melton, Assistant Headteacher
Nick Melton comments, "As a school, we are now more aware of our own strengths and weaknesses. If some teachers are stronger than others in a particular area, SchooliP will highlight it and so, rather than send the teacher with difficulties on a course, we have set up a peer observation system. We can now more effectively implement our mentoring and coaching plans, based on the output of SchooliP."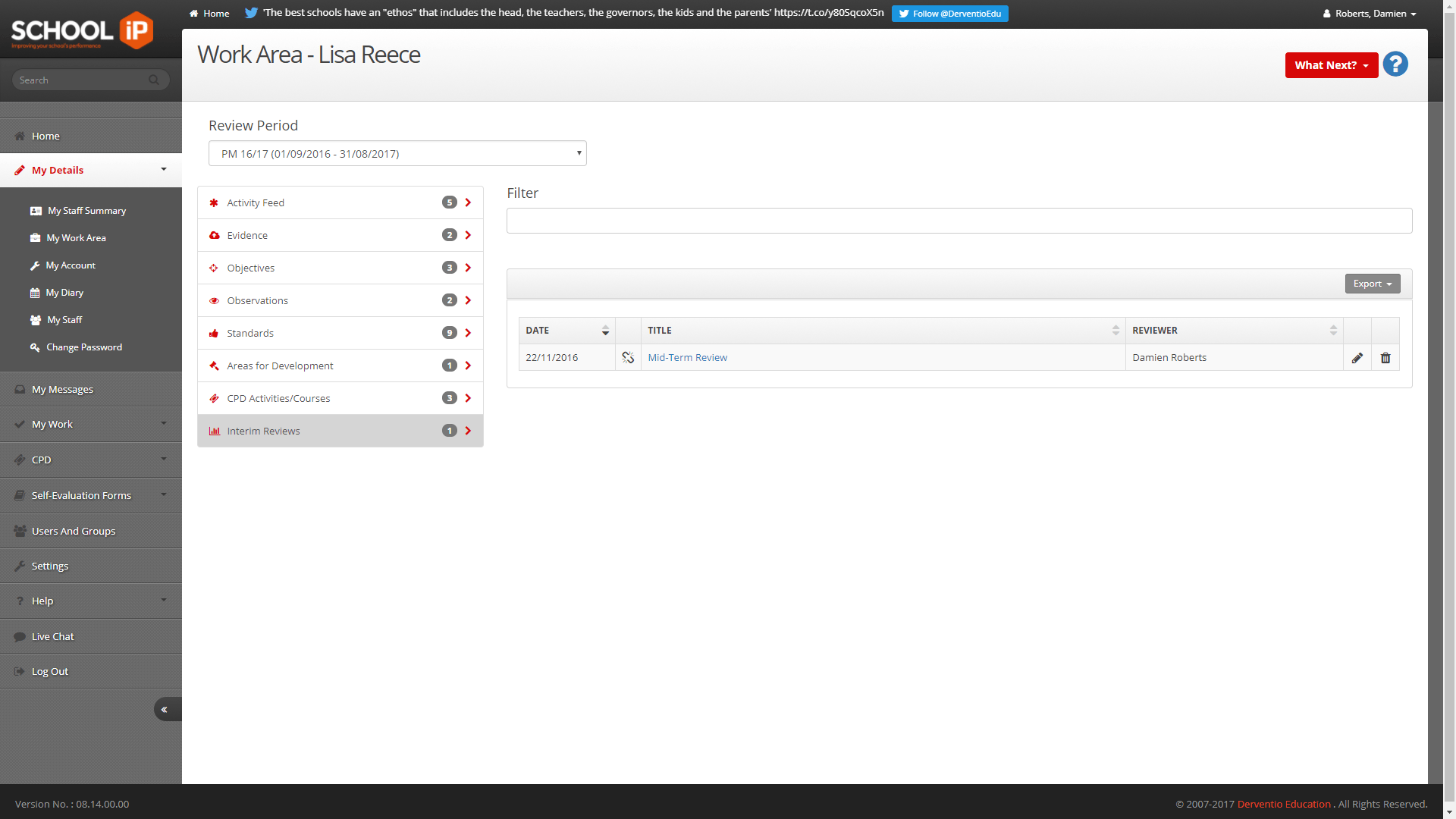 The latest stage of the implementation of the system has been the update of the SEF and to integrate the new School Improvement Plan, with new OFSTED priorities and all staff have been aligned with their objectives. The school is currently in the process of uploading individual faculty development plans. All areas including all development plans and all appraisal priorities are linked back through the system to the school's 7 whole-school objectives.
Inspectors could clearly see how our priorities are being implemented and planned.

Nick Melton, Assistant Headteacher
Tupton Hall School enjoy a full data integration service with Wonde. As a result, all staff information is automatically synced from their Capita SIMS management information system into SchooliP. This improves efficiency and alleviates the need for time-consuming data entry for Nick and his colleagues. Wonde support all major MIS systems and more information about this excellent service can be found here.
Nick summarises, "At our most recent Ofsted visit, the inspectors could clearly see how our priorities are being implemented and planned. In terms of advice for other school leaders, I would proffer the following: Prepare for the system switch, but take a 'big bang' approach, rather than dual running as it minimises confusion and facilitates 'buy-in' by all parties. Be realistic and implement each section systematically, one term at a time - allowing up to a year for full implementation. Allow even more time if staff are not IT literate. Use the line management and existing structures, as well as bespoke training." 
Find out more
Talk to our team today to find out how Derventio Education software can support you and your colleagues.
Book a Demo