"SchooliP has given a voice to those unsung heroes."
Hartsdown Academy
Profile
Hartsdown Academy is a co-educational school for ages 11 to 16, plus consortium sixth form in Margate, southeast England. It has over 1,000 students and 150+ staff.
Charlie Barber, Vice Principal, utilised SchooliP as part of her headship project as it was 'such a massive task to change the whole performance system across the whole school' so she needed an intuitive system to help her do it. Charlie talks about her experiences before and after SchooliP and why she is now an advocate for the software and in her words, 'loves it!'.
We began by asking Charlie what the Hartsdown Academy utilised before SchooliP:
The paper based system we had in place wasn't efficient

Charlie Barber, Vice Principal - Hartsdown Academy
"We had a paper based system before. This used to get looked at during an inset day at the beginning of the academic year and midyear. I felt as a school we needed to have a robust system that ALL staff took responsibility for. A system which was on-going, where the reviewer and reviewee had constant communication, staff members could upload evidence and highlight what they do; where targets fed into the school priorities and the development plan and a system where CPD was directed to individual needs."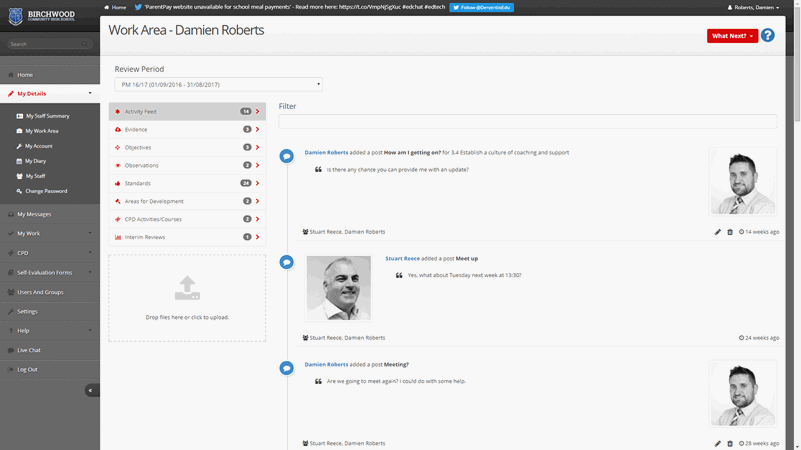 "When my role within the school progressed and I become responsible for performance management for all staff, I soon realised that the paper based system we had in place wasn't efficient. I found it very difficult to put my hands on all of the performance management data and I quickly discovered that when people had moved positions, departments or left the school, much of this paperwork was lost and this simply was not good enough. During an inspection it was outlined that performance management was an area that needed to be reviewed and improved upon."
"I began searching for an intuitive solution as although I am computer literate, not everybody is and for this to be a success we had to have a system which everybody was comfortable using. We wanted to ensure that everyone was onboard with what we were trying to achieve. I also wanted a system which would allow me to quality assure any performance management and CPD activities so that I could be sure that it was completed to an excellent standard and guarantee all objectives were realistic and measurable"
What attracted you to SchooliP?
A clear pathway giving staff ownership of their own performance management and CPD

Charlie Barber, Vice Principal - Hartsdown Academy
 "We wanted complete transparency and to create a clear pathway giving staff ownership of their own performance management and CPD so that with any decision made relating to performance related pay, there was evidence to support it. SchooliP also ensured line managers were taking ownership of performance management of their own staff. We were keen for line managers to be more involved and to remove the perception of performance management being perceived as just a tick box exercise. The transparent nature of SchooliP enables line managers to understand the needs of their staff and how they are contributing to wider school improvement."
The Hartsdown Academy were keen to discover how SchooliP champions a culture of continuous improvement and empowers all staff by giving them an intuitive solution to evidence their own objectives and contributions to school improvement. All evidence and data is stored in a centralised online system, automatically linking to objectives, areas for development and/or the school improvement plan; all of which can be viewed within the system or exported as pre-assembled reports. For senior leaders, or CPD coordinators at Hartsdown Academy, reports can be generated to show any criteria they wish. With a few clicks evidence of CPD spending, improvements over time, progress towards achievement of objectives or the development plan at an individual, department or even whole school level can be produced. The system really saves countless hours and provides leaders with a fully rounded view of how their school is performing in all areas and at all levels. Leaders can then take decisive actions, based on evidence, to steer their school towards the highest possible standards.
We asked Charlie 'What benefits do you now see as a result of SchooliP'?
ALL staff are happy to take ownership of their performance management and can see how they are really benefiting the school

Charlie Barber, Vice Principal - Hartsdown Academy
"CPD is directed, ALL staff complete their performance management especially as it feeds into performance related pay. ALL staff are happy to take ownership of their performance management and can see how they are really benefiting the school. For senior leaders like myself, SchooliP allows me to have a comprehensive overview of whole school performance management."
Line managers and senior leaders have an option within SchooliP to recommend or defer pay progression and all the evidence for why is automatically available alongside it which can then be shared with any relevant stakeholders. All decisions made, such as during an appraisal, must be agreed by both parties by entering their own unique passwords. This ensures that decisions are made fairly and transparently and there is evidence to show that both parties have acknowledged and agreed to all that has been discussed.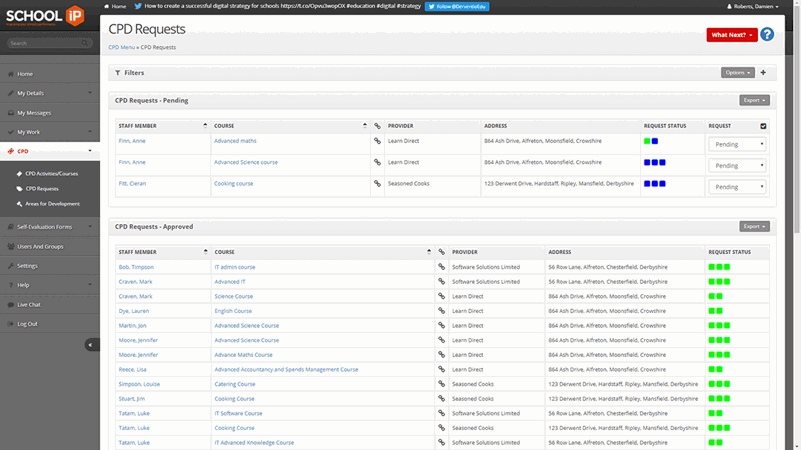 "I have found a real benefit of SchooliP has been that it has given a voice to those 'unsung heroes' within our school, those who don't necessarily shout about their achievements but have a massive impact on our school. This is now all evidenced within SchooliP and those individuals now get the recognition they deserve. Staff became whole heartedly onboard with SchooliP when they realised what the system could do for them."
"As a senior leader, SchooliP also gave me easily accessible proof and evidence to show any steps we have taken to support staff, should I ever need it for stakeholders or even for legal reasons".
We were keen to hear what Charlie thought of the reporting functionality within SchooliP:
"We utilised the reporting functionality within SchooliP during our last external body inspection, it allowed me as a line manager and a senior leader to show whole school improvement and a clear progression towards achieving our goals as a school. It also allowed me to justify why we were putting people forward for pay progression".
What would you tell another school if they were considering SchooliP?
"THIS IS A MUST and sign up. As a deputy head who oversees performance management this has made my job easier and I have a clear view of whole staff performance, at every level. It's a fabulous system; it ticks every box for managing performance management and school improvement".
We are thrilled by how much Charlie and Hartsdown Academy love SchooliP and we are so glad we have been able to provide another school with a solution which has such a positive impact for school improvement and performance. We will continue to work with Charlie and the Hartsdown Academy to develop the SchooliP solution so it continues to be an asset for schools to utilise both currently and in the future.
Find out more
Talk to our team today to find out how Derventio Education software can support you and your colleagues.
Contact Us