The following Case Study refers to our CMI Leadership & Management training course and Team Building Workshops. If you wanted to read more about customers using SchooliP, please return to the main page.
SchooliP customer Manchester Communications Academy approached Derventio Education to undertake the accredited CMI leadership and management qualification course for two senior leaders at the school. From this, the academy then took advantage of another workshop available through Derventio Education; the fantastic team building workshop to support their growth and leadership teams' developmental needs.
In partnership with our training partners, Odissy, we carried out a fact finding exercise to determine the most appropriate solution for the Manchester Communications Academy's needs. A level 5 CMI accredited leadership programme was tailored to meet the needs of the leadership team and also to give their leaders an externally recognised leadership qualification. In addition a team building programme was developed to support their community team which involved a number of tailored workshops to increase the team's ability to achieve its objectives and generate additional interest for its community outreach programmes.
A number of leaders achieved the level 5 qualification in leadership and management and eight project leads successfully completed the team development programme.
Sixteen different academy wide improvements were generated including:
Improved sharing of information
Increased engagement of the wider team
Increased analysis leading to improved decision making
Problem Solving - Improve problem solving skills and set own targets
Productivity - Improve productivity within role
Positive Working Relationships - Improve teamwork, communication and collaboration
So what happened?
The first step involved the senior leaders undertaking the CMI Level 5 leadership qualification. This allowed them to develop their skills in a way that was relevant to them and their role within the school. From the training, it was outlined that their teams would benefit from a team leading workshop.
As part of the overall 'Team Building Workshop', three specific sessions where outlined to cover the following areas:
Leadership styles and team development
Performance management and goal setting
Culture and options within schools
Implementing and managing school change
Influencing skills
Understanding school politics
Building open two way communication channels
Emotional intelligence
The external environment
Goals and objectives
Leadership skills and methods
Self-awareness
Everyone partaking in any of the training provided can feel confident that support is available for the duration, including outside of the sessions.
A comprehensive evaluation strategy was built into the programme with learners receiving data including the reaction level feedback for each workshop and using GOLD to produce interim reports around impact and progress.
As Manchester Communication Academy is also a SchooliP user, they can document all of their professional development activities within the software and link these to areas for development or even their own personal objectives.
The workshop was well received by all participants:
The programme has brought the team together, and offered constructive advice to a more effective collaborative approach
I now feel more comfortable asking for support off colleagues
Really good sessions, team now more resilient and lean on each other. Greater collaboration and more strategic thinking
Learning & Behavioural Change
The team development model 'Ten Steps of Effective Teams' was used to assess the team's strengths or limitations before and after the training. See results graph below which shows improvement in all areas. In particular significant improvement was seen in Q5 Beneficial Team Behaviours, Q7 Balanced Participation and Q10 A More Analytical Approach.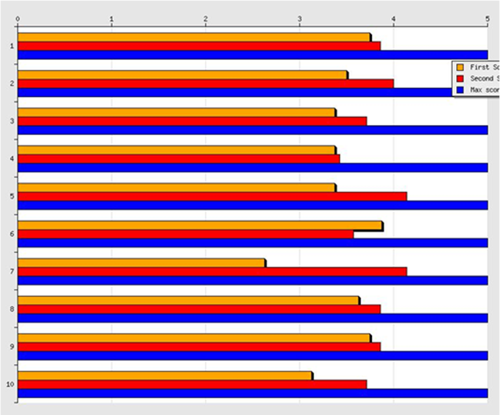 Clear Goals
 Improvement Plans
Clearly Defined Roles
Clear Communication
Beneficial Team Behaviours
Defined Decision Procedures
Balanced Participation
 Established Ground Rules
Awareness of Group Processes
Scientific Approach
School Impact
13 different improvements around problem solving, productivity and positive working relationships led to:
CMI Leadership qualifications achieved
Improved problem solving
Improved productivity
Improved team relationships
Improved community engagement
Increased understanding of the community team across the academy
Testimonial
Our rationale for the team development programme was that our team of eight staff were vastly diverse in their experience and work practice. Following two full day workshops, individual objective setting, a half day evaluation including personalised reports, I can say with certainty that the programme had a real positive impact on the MCA community team. Evidence of this impact includes more professional team communication, greater collaboration and increased productivity. The service and support received from Jav (the programme tutor) was exemplary. Jav was in constant communication to ensure the programme was tailored to our specific needs, was flexible when needed and has proved a valuable resource for me over the last six months in terms of analysing the strengths and weaknesses of my team.

Martin Roberts, Assistant Principal - Community - Manchester Communication Academy
In addition, having asked the team for some feedback, they too provided some positive thoughts such as;
Really useful for the team, e.g. the team has got stronger, is able to make decisions, and with much more respectful relationships
The programme has brought the team together, and offered constructive advice to a more effective collaborative approach
I now feel more comfortable asking for support off colleagues
Really good sessions, team now more resilient and lean on each other. Greater collaboration and more strategic thinking
Find out more about Training Courses & Workshops
Interested in training for you and your colleges? Contact our team today to discuss your requirements.
Contact us