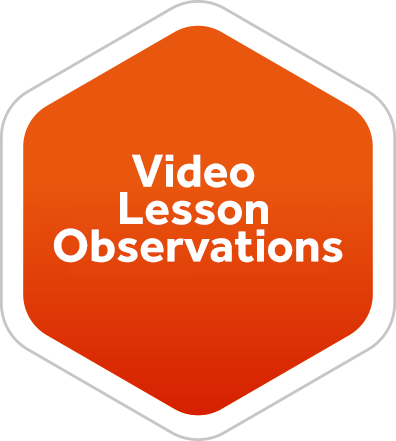 SchooliP offers the functionality of full video integration. This means that lessons can easily be recorded, uploaded and analysed.
Reflection and feedback
Once videos are uploaded in SchooliP, self-reflection can be completed against any lesson. This is very helpful for experienced as well as trainees and newly qualified teachers who are required to regularly evaluate their own practice. Analysis can be completed in real-time and a record is available for future viewing, as well as the opportunity for peer collaboration and triads, where multiple users can annotate and add their comments. This is very helpful for mentoring and coaching where support and feedback can incorporate recordings of observations. 
Time-stamped comments
SchooliP allows feedback to be pinpointed at specific moments during a lesson allowing good practise and areas for development to be highlighted. These reference points are useful stimulus for teaching and learning discussions. From a convenience point of view, key moments can be bookmarked for future viewing.
Consistency
Video lessons observations are a great way of promoting consistency throughout your school or trust. As a software house, we can create powerful forms that can include categories of your choice. For instance, has a teacher utilised direct questions during the lesson? Once several lessons have been observed, granular data is automatically collated which gives a powerful level of insight into consistency.
Security and sharing
Robust permission settings ensure that recorded lessons are only available to the intended parties. Users have complete control on sharing content. Videos can be utilised for standardisation training, CPD workshops and for showcasing outstanding teaching. For a multi-academy trust, good practice videos can be utilised throughout the trust to create a climate of collaboration and consistency as well as a platform to showcase good practice.
Cost Benefits
As all feedback is recorded within SchooliP, there is no extra time consuming administrative paperwork to contend with. Video observations mean that there is no requirement for covering and therefore reduces the cost of cover and the impact of student disruption to routines. Staff can view lessons at the most convenient time when they feel they will gain the most from the experience.
Overall
Video observations are a powerful professional learning tool, that work alongside traditional lesson observations in a tool to improve teaching and learning. Evaluating your own practice or observing a colleague in a familiar environment maximises its impact. Our experience informs that using video observations assists not only improving teaching, but helps to create a positive collaborative school culture where teachers are constantly seeking to develop and improve their and others teaching.
To find out more about SchooliP, the simplest way to manage teacher and staff appraisal in schools, please get in touch.
Call 0333 0433 450 to speak to one of our sales representatives or email: info@derventioeducation.com.
Alternatively, click here to arrange a demonstration.