To capture the process of development planning within a school, three categories are recommended:
Whole School Priorities (strategic targets)

Objectives (whole school and departmental)

Activities/Tasks
Firstly, a school must decide on those priority strategic areas for improvement. Typically, this relates to an outcome from a previous inspection or may arise from the school's own self-evaluation. Our software, SchooliP provides comprehensive management of your school development planning and integrates this fully into your appraisal process. All activities are focused and linked to your overall school strategic priorities.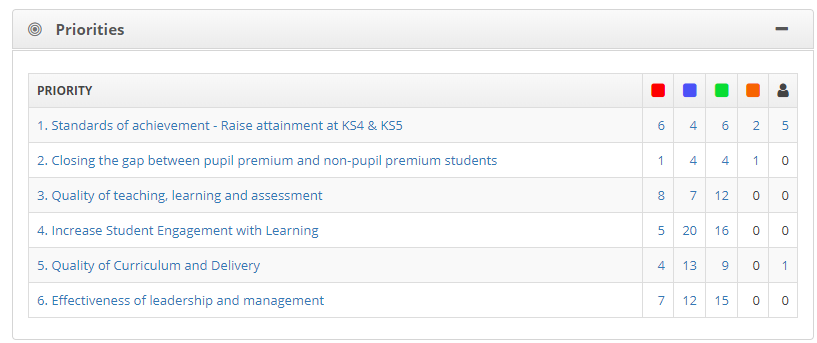 Beneath these priorities, a school can start to create their own plans by devising a series of objectives which may be attributed to a particular subject area or department. These objectives may then be further broken down into the tasks and activities, which are assigned to key personnel. Reminders are sent to staff to inform them of their obligations and development planning becomes transparent. As a result, all tasks are completed on schedule.
Overall, SchooliP empowers leaders to deliver your school improvement plan. Our solutions provides a fully integrated process with accountability throughout. Leaders have immediate access to the information they require to secure improvement.
To find out more about SchooliP, the simplest way to manage teacher and staff appraisal in schools, please get in touch.
Call 0333 0433 450 to speak to one of our sales representatives or email: info@derventioeducation.com.
Alternatively, click here to arrange a demonstration.