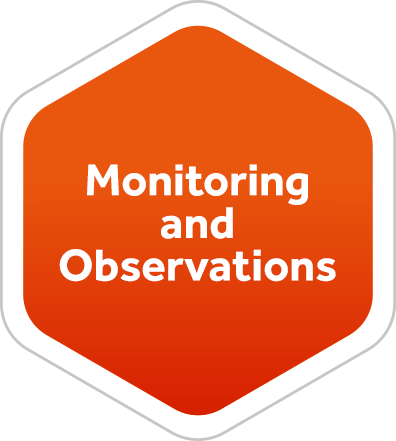 Teaching and learning can be observed in many different ways, including:
Learning Walks

Work Scrutiny
Our SchooliP solution enables schools to utilise appraisals for their true purpose of improving staff. Observations can be recorded in a variety of monitoring forms. We appreciate that learning can be observed in many different ways and our software supports this. Video evidence of best practice can be uploaded, annotated and shared with staff.
SchooliP enables observations to be carried out in real-time on a laptop or tablet, avoiding unnecessary repetition and increased workload. Comments and gradings are immediately saved avoiding 'lost' paper reports and insufficient feedback. Bespoke monitoring forms can be created that meet the individual needs of your school. In a practical sense, you can set the header fields, the questions, the summative judgements, guidance notes and the overall grading in your forms.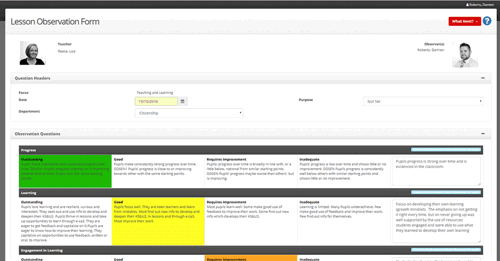 We have 50 predefined header fields to detail the context of the observation. For example: class, subject, class size, FSM, SEND and EAL. However, we are able to incorporate your own heading, performance criteria, judgements, guidance notes and colour schemes to fully meet your needs.
Following your observation activities, SchooliP allows a range of detailed reports to be created.
Information can be collated and filtered; for example, departments, dates and type of staff member. This enables you to see a picture of where you are at any point in time. Transparency enables leaders to identify strengths and areas for improvement within teaching. Thereafter, priorities can be quickly established and time can be efficiently allocated to school improvement.
Carrying out any type of observation in SchooliP is simple and intuitive. Paper is removed from this process and the results are automatically collated. The wealth of data generated can then be used to inform strategic decisions. This will allow you to enhance individual performance and drive school improvement.
To find out more about SchooliP, the simplest way to manage teacher and staff appraisal in schools, please get in touch.
Call 0333 0433 450 to speak to one of our sales representatives or email: info@derventioeducation.com.
Alternatively, click here to arrange a demonstration.