Strategic Partnership
Bravo Earth
We are delighted to announce that Derventio Education has formed a strategic partnership with Bravo Earth. Our development team have harnessed the technology behind our leading school improvement tool, SchooliP to create a web-based tool that assists businesses in implementing and monitoring their environmental policies.
The partnership was initiated by our Scandinavian reseller, Mats Rosenkvist who introduced us to Bravo Earth CEO, Vilborg Einarsdottir who is in the inspiration behind the platform. With a wealth of experience in education technology, Vilborg is now proud to be supporting businesses in enhancing their corporate social responsibility.
We are excited to have created a platform with Derventio Education that allows businesses to reflect on their environmental policies. Bravo Earth raises the profile of environmental sustainability and monitoring the success of policies becomes a continual process. We are proud to support the global effort to reduce waste and carbon footprints through innovative technology.

Vilborg Vilborg Einarsdottir - Chief Executive Officer - Bravo Earth
Bravo Earth gathers a wealth of statistics as employees are able to quickly enter feedback on key environment areas such as: transport, energy and recycling. This generates graphs and charts which management can analyse to determine performance. Thereafter, environmental policy can be scrutinised and the most suitable pathways forward can be determined. Employees feel empowered and can make suggestions to enhance environmental policies within Bravo Earth.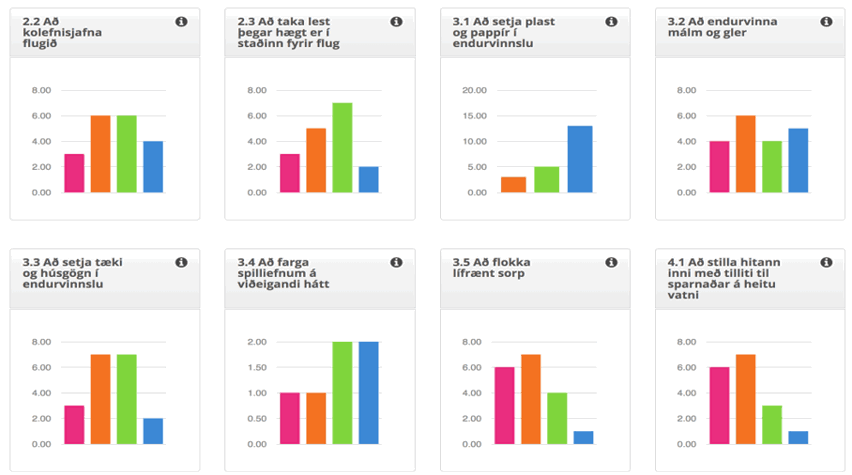 Bravo Earth produces a wealth of statistical reports (Icelandic version shown above).
Here at Derventio Education, we have adapted the technology behind our SchooliP solution to positively influence environmental strategy. Bravo Earth is an intuitive platform that ensures environment policies get the attention they rightly deserve. In modifying our software, significant attention to detail has been paid to meeting all the bespoke requirements.
To find out more about Bravo Earth, please visit their website, email: vilborg@bravo.earth or call 00864 0899. If you wish to speak to discuss bespoke software development with Derventio Education, please explore the dedicated section on our website. Alternatively, email: info@derventioeducation.com or call 0333 0433 450.
Bravo Earth
Talk to our team today to find out how Derventio Education software can support you and your colleagues.
Contact Us