Why it's time to review CPD (Using Video Technology)
For many when CPD is mentioned it means either time out of an organisation attending a course or sitting at the end of a long day of teaching, in a crowded room, and either listening to a member of the leadership team, a colleague, or maybe even a guest 'speaker'. This has been the tried and tested formula that has been used since I started teaching, and even earlier. The challenge is when your head is spinning with the complex nature of teaching, it is difficult to concentrate, turn off and focus on this type CPD at the end of a long day.
Over the past twelve months, during the pandemic,  some organisations have continued the same trusted formula, but taking the CPD to a virtual environment where the staff team are gathered remotely, or in the absence of attending courses, staff have signed up to webinars and online courses.
Some organisations have however used the pandemic as an opportunity to reflect and evaluate CPD. How it is planned, delivered and even down to the terminology used, with many now referring to professional learning.
It is the opportunity for staff to engage in professional learning from a new direction, rather than being told that 'training' will be taking place every Monday evening after school staff are being given more autonomy regarding what, where and when they are going to engage in their professional learning. 
It is not about recording a particular piece of training and a course has taken place; it is about the impact of the training and the only way to ensure success is to ensure the staff feel it is relevant and feel empowered. 
Everyone aspires to improve, but how to improve is the big question. Staff can be 'told' or they can reflect and identify themselves what they need to develop. Being told doesn't empower, it makes people feel they are complying and being 'done to'. A more coaching model, however,  where staff are able to identify their needs, has seen increased success. 
A lengthy session, even for only an hour,  may not be the key to ensuring the most impact. The session may have more impact if staff are given the opportunity to research and evaluate prior to the session at their own pace and discuss during the session. The opportunity for a large session to be recorded, reviewed at an individual's own pace and even split into smaller sections has proven to be beneficial in terms of impact.
Giving staff the autonomy and flexibility to access their own professional learning at any time, anywhere and in whatever format, empowers staff and also gives greater flexibility regarding teacher cover and therefore potentially reducing cover costs. I sometimes thought that being out of class sometimes meant lost learning and depending who was covering, meant I would have to 'pick up the pieces' on my return. 
Some organisations are embracing the use of video technology as a reflective tool. Video including teacher training videos, clips of colleagues' practice or an individual's own lesson/parts of lessons are recorded and reviewed. There is opportunity for reflection, but also collaborating by involving others to annotate and providing quality analysis and feedback. The member of staff is taking the lead and taking the emphasis away from the 'done to' traditional lesson observation.
This is a great opportunity to turn traditional CPD 'on its head' and adopt a more staff directed professional learning approach empowering staff to plan, participate and reflect on their own professional learning journey.
How can iP support using video technology for bite-sized CPD?

Self-reflective practice and collaborating with others is made possible using iP with the video annotation tool.  As previously discussed, many practitioners are now used to using video in their practice in one form or another. Many are now professionals at teaching over Zoom/Teams, recording teaching live or pre-recording to share with students.  A staff member can upload videos from their mobile device/iPad/other device and/or pre-existing videos.  In short, a user can add timestamps to indicate "good practice" and share items of interest.
Those with successful coaching programs embedded in their organisation also see the benefit of utilising video to reflect on performance, get feedback, and to objectively measure progress. The tool will allow the user to:-
Be objective – make annotations against time-stamps in the actual video

Share the video and annotations – have an online discussion with a collaborator/coach

Time and distance shifted – recorded lessons can be discussed at any time and sent to a collaborator to view and respond when feasible

Link to a form - allowing the staff members to complete a form to 'calibrate' against a guide e.g. for assessing a lesson for effective questioning, understanding learner behaviours, refining a specific teaching skill, lesson timings etc.
Click on the image below to view a short explanatory video.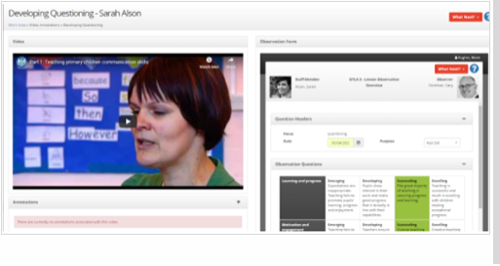 If you are interested in finding out how you can embed the video annotation tool in your organisation, then please don't hesitate to book in a FREE and UNLIMITED online training session with your Account Manager here. 
Find out more
Talk to our team today to find out how Derventio Education software can support you and your colleagues.
Book a Demo