Continuing Professional Development
The Benefits
We are continually told that the teaching profession is finding it difficult to retain good teachers. One of the reasons behind this, is that some schools struggle with supporting whole school performance management and CPD in an integrated way, but it is important, as everything ties back to the whole school development plan, and if done properly can have a direct impact on staff retention and morale. Setting realistic goals makes for a happier, more supported and engaged classroom, helping all staff to keep the school on track with meeting their collective and personal goals.
Continuing Professional Development (CPD) is central to any profession. Not just to help improve the way you do your job now, but to help you keep informed of new ideas and thinking, as well as preparing for what's just around the corner. CPD activities can be face-to-face, event-based, paper-based or digital. Training courses and programmes can help you with learning something specific and conferences can help you find out about what's new, and they might even give you a feel for what is next. But in fact, this is not continuous CPD, it is intermittent. This is one of the issues and for it to be successful; it needs embedding into day-to-day school activity.
CPD happens through daily information; through interactions with other people active in your field, blogs, web feeds, podcasts, learning apps, browsing, social media, reading, video learning and other e-Learning. Over time, these activities build up into a large body of knowledge and expertise, almost unconsciously, helping you to plan for your future teaching career or even plan and evidence a move into Senior Leadership Teams.
You can usually complete digital CPD from any electronic device: desktop, laptop, notebook, smart phone or tablet. Online forms of CPD offer learning where and when you want it, regardless of time, space and distance. This is a particularly useful way of keeping up-to-date of the new and the next in your field of work.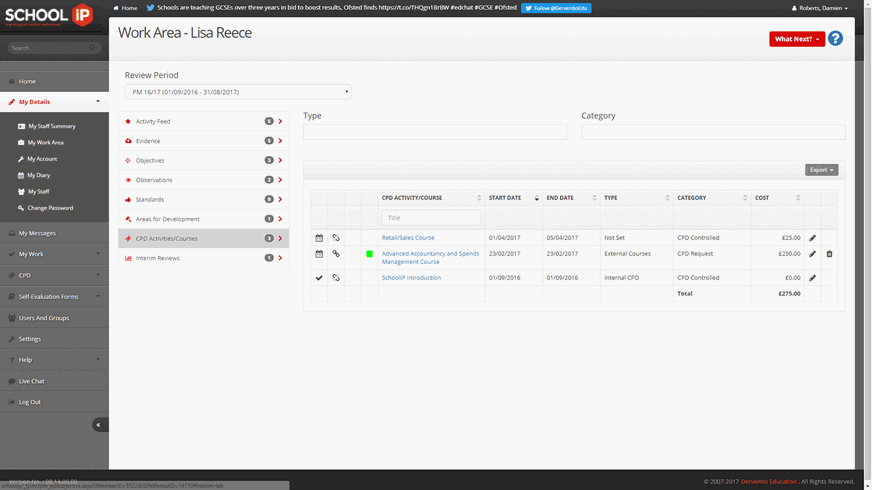 The important lesson to take away from this blog is that learning comes not just from something that is organised for you, but something you organise yourself, as well as from daily experiences. CPD should be about capturing those useful experiences and then assessing the practical benefits of what you have learned. Build a continuous learning mind set, rather than an intermittent training mind set.
CPD is part of everyday. So, now we need to learn how to record the everyday development to show that we're constantly learning. In most organisations you will need to record your CPD. Here at Derventio Education, we provide a structured framework for schools, colleges and universities to allow staff to evidence, maintain and build on the skills and knowledge they need to stay ahead of their profession on a daily basis.
Having a software system that can help feedback into these goals, rather than relying on paper-based systems is key. SchooliP provides a complete picture of schools, all staff and all of the interactions required for the journey of appraisals, providing evidence of work is just a click away. It is apparent to me that using software is a solution to helping staff become more proactive in their personal development and helps to maintain the journey of their CPD and the activities surrounding it within a personal portfolio. It can give back control to the staff and help make the process more straightforward to schools and multi academy trusts.
We are experts in helping and supporting schools to help make their software decisions stick, we provide an integrated suite of tools to support professional development, school improvement and self evaluation: If you would like a demonstration of the system, in person or online please contact: 0333 0433 450.
Alternatively, you can see how we supported Rivermead School from being paper-based to using our on-line software: http://www.derventioeducation.com/case-studies/rivermead-school/
Derventio has been providing CPD software for over 5 years; therefore we have extensive experience and knowledge of working with education providers and know what works and what doesn't. We will work with you to help modernise your professional development programme and help engage your employees in the maintenance and recording of CPD and school improvement.