Self-Reflection and the Teachers' Standards
The virtues of self-reflection in teaching are well established. Within the Teachers' Standards, teachers are asked to reflect systematically on the effectiveness of their lessons and approach to teaching.
Our performance management software SchooliP enables staff members to self assess themselves against the Teachers' Standards. OFSTED terminology such as Outstanding, Embedded and Developing can be used as measurements. Alternatively, a bespoke criteria can also be specified.
Thereafter, Line Managers can then appraise their staff which leads to two sets of opinions. This can drive appraisals discussions as skill sets can be analysed and any differences explored. This leads to more productive conversations around the professional development of staff. Strengths and areas for development are identified in a radar diagram that enables immediate comparison. This diagram was inspired by one of our developers observing a similar feature on the successful management simulation, Football Manager.
The larger the area is an indication of the more effective and competent a teacher is. This graphical representation is invaluable for conversations with key stakeholders. For instance, Senior Leaders, Executive Headteachers, Trust Heads, School Improvement Consultants, Inspection Teams and Local Authorities. It is imperative for these key stakeholders to understand what the relative strengths and weaknesses are within the school. Identifying the weaknesses is the main burden on any leadership team. Once identified they can set about executing a strategic plan of improvement.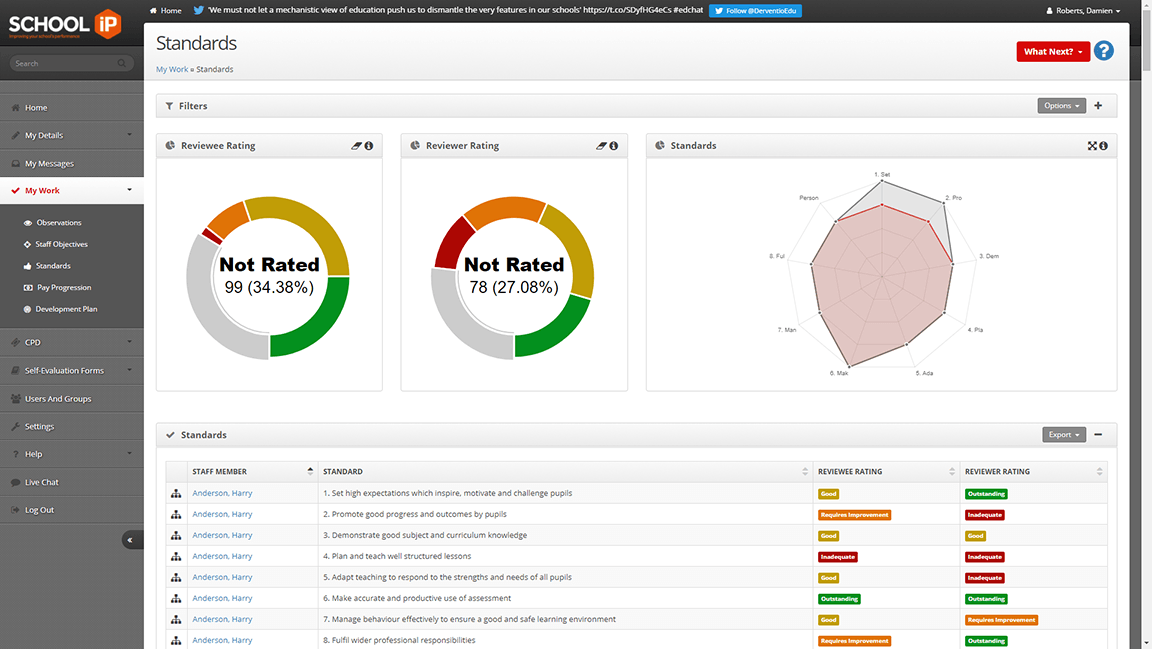 Following self-reflection and appraisal, departments are able to identify best practice. In the image below an outstanding teacher has been identified who could be utilised for mentoring and collaboration. Therefore, colleagues who require improvement can receive support to enable them to improve. Additional responsibility is given to talented teachers to develop others. Often this can be a means of identifying aspiring middle leaders and empowering them by giving them a platform to shine.
For an entire school, collective areas that require improvement can be identified. This can inform planning for Twilight sessions and INSET days. For trusts taking over schools that require improvement, outstanding practitioners within the trust can identified to deliver training and share best practice.
It can be seen that SchooliP empowers leaders with detailed information to make good decisions to drive improvement. No longer are multiple, self-devised spreadsheets required. SchooliP can quickly produced detailed reports with just a few mouse clicks. This means that hours of professional time can be saved each week. This enables leaders to concentrate their efforts on strategic matters and reduce the administrative burden. SchooliP provides comprehensive data in one convenient location. The power of SchooliP means that leaders are better informed to make a decision to improve their schools.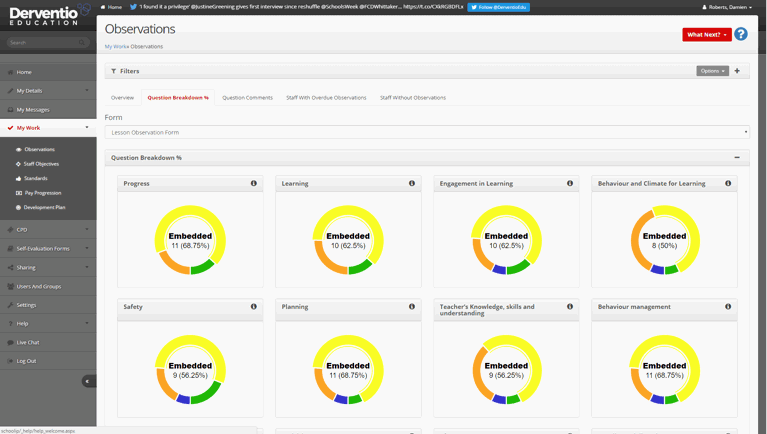 SchooliP is not just limited to teachers. Administration staff can also benefit from any standards or competencies being applied to their appraisals. For instance, safeguarding requirements and a code of conduct. The flexible nature of SchooliP means that any accredited standards can be uploaded to rate staff. For instance, School leadership qualification standards, an agreed set of standard for a multi-academy trust or any other.
Within SchooliP, self-reflection can be carried out at any point of the school year. We often observe our customers carrying out their target setting for the year ahead in September and October. Here, self-reflection helps to inform plans for the year ahead and it is utilised as a point of reference throughout the year.
Recently, we have been working with a number of SCITT providers (School-Centred Initial Teacher Training). Here trainee teachers are rating themselves against the Teaching Standards on a near weekly basis due to regular observations. In building their portfolio of evidence, trainee teachers really benefit from this streamlined approach to their professional development.
It is apparent that our performance management software can positively influence all stakeholders within education institutions. For our current customers, we always welcome the opportunity to speak to you about unlocking the full power of our software. For prospective customers, we would be delighted to deliver you a free, no obligation demonstration. Please call us on 0333 0433 450 to arrange this or alternatively email: info@derventioeducation.com