Improving your staff team - Flipped Learning for Staff CPD
Your staff are the most valuable resource in a school or college, both in ensuring the quality of teaching, but also the cost on an organisation's budget. Some schools, for example, over 80% of their budget, is on the cost of staffing. It is important that the staff are used effectively in their roles. 
Some leaders like to be 'hands on' and do find it difficult to let go and delegate. It is totally understandable, wanting to get an overview of what is happening, but the key is getting the right balance. The secret is ' to be the conductor of the orchestra and not playing all the instruments'. Being involved in every small detail, micro managing, rather than delegating, can be an inefficient waste of time and money. Instead, allocate roles and responsibilities, and trust that they will perform the tasks well. They might initially not be as successful as yourself, but they have to be given the opportunity to learn. Giving staff responsibility empowers them to gain the necessary skills and provides them with the leadership experience that will ultimately benefit themselves and your school or college. These staff were employed for a reason, so now give them a chance to show their potential. 
 It is important staff are provided with the appropriate support and guidance to help them develop.  These may include providing:  
Clarity - The task needs clear goals, "SMART" targets and information on what impact their activity will have on the 'bigger picture'.

Motivation-  One of the best ways to encourage staff is to give them a reason and purpose. Recognition for a job well done will make them feel appreciated and encourage them. 

Efficiency - Cut out the excess of having to complete unnecessary repetition and duplication of tasks

Communication - Finding time for a quick catch up can help understanding and quickly settle an issue that might have taken hours of back-and-forth emails.

Feedback - There is no hope of success if staff don't know how they are performing. Review meetings are essential to identify staff progress and inform them where they are succeeding, and what areas they need to develop. Increasing the amount of success isn't all about what they need to do to improve, but also on providing guidance on how to improve, in a way that empowers staff to embrace feedback.

Professional development - Staff need to be provided with relevant support and training to help them improve. Individual coaching, workshops, courses, seminars, shadowing or mentoring are all ways to help a staff member develop professionally. Staff no longer have to feel the constraint of learning at a particular time and place. 'Flipping the learning'  provides them with a lot more freedom to learn where you feel comfortable. It hinges on the idea that learning is more effective by using staff meeting time for small group activities while content can be viewed at a convenient time. The role of a leader is even more important, to 'monitor' their staff, providing them with relevant feedback and using the outcome to plan professional development.
How can iP support flipped learning?
SchooliP, CollegeiP, UniversityiP and Alto (referred to as iP), can support flipped learning for staff in many ways.  Let's imagine the scenario that a new process for Rewards and Sanctions/Behaviour Management is being planned in your school/college/other education organisation, and you are part of the project team.  The project team needs to meet regularly and needs to make efficient use of limited meeting time.  You have decided to use a flipped learning approach to ensure face to face time is allocated for review and monitoring, so the team need to research and prepare prior to these sessions.
It's a good idea to keep all of the documents, discussions, plans and actions in one place.  Email trails can become unwieldy and information is easily lost.  There are a couple of tools in iP that support this:-
Self Evaluation of project

Blog function
Project Self-Evaluation Form
The Self Evaluation Form feature is the perfect tool to help manage a new project as tasks can be disseminated and regular assessment and monitoring can easily be maintained.  These review activities are normally carried out during the meeting phase of a flipped approach.  The completion of activities can then be worked on outside of this time and recorded in iP, giving 100% clarity to all involved. 
Our self-evaluation form is split into sections and questions.  The forms are created bespoke to your needs to ensure the process matches your needs. Each question can be rated in terms of progress and grading (as seen in the data donuts in the image below).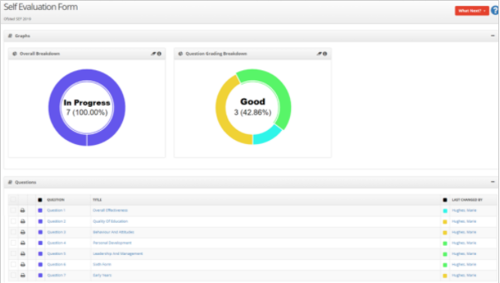 Individuals and groups are assigned to contribute to the questions and collaborators are added and assigned tasks.  A workflow ensures that key sections are reviewed at prescribed intervals.
Notifications can be sent to staff members to ensure that they are aware of their workload. Each time a member of staff makes a change an audit trail is maintained.  Additional files can be uploaded alongside the project team member's responses, keeping all documentation in one place.
The Blog
The blog section provides an ongoing activity feed/conversation between members of staff and can be used specifically for discussing a particular project.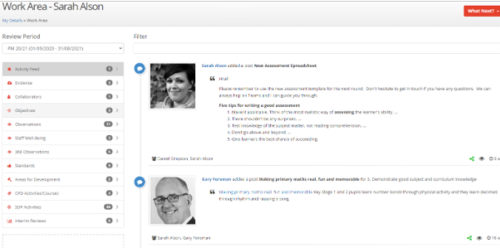 When a blog entry is added to the system, an email will be sent to all parties.  The benefit over emailing is that all relevant information is in one place.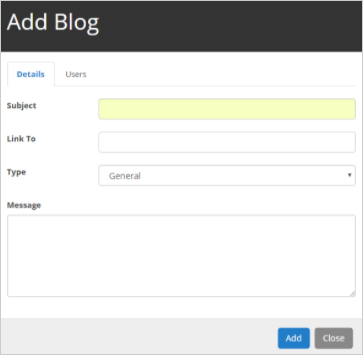 Find out more
Talk to our team today to find out how Derventio Education software can support you and your colleagues.
Book a Demo