Developing a coaching culture - Interim review
When you think of coaching you initially associate this with sports coaching. The likes of Sir Clive Woodward; inspiring the England rugby team to victory in the world rugby cup final, Dave Brailsford; guiding the British cycling team to Olympic success or Jill Ellis; steering the USA to victory in the women's football world cup. Everyone involved in sports, whether an individual or a team, seems to have a coach linked with them. Recently, coaching has become associated with a wider range of areas and aspects of life and in particular has come to the forefront in education. It is now the norm for someone to work with a coach to reflect and improve their performance. A coach doesn't need to be a person in a senior leadership role, but more linked to the skill of the individual to bring about a positive change and increase performance. The coach could be external, but more increasingly they are a person within the organisation.

What is coaching?

Coaching helps a person to maximise their performance by learning and understanding more about themselves. A successful coach empowers and enhances the qualities of the individual, not through teaching, but more through the opportunity to reflect and provide guidance. The coach does not necessarily need to be an expert in the person's role, but more of having the ability to increase a person's awareness of themselves, helping them decide on a direction that leads to positive change.

What are the key components to an effective coaching culture?
Coaching is a journey with no set time frame. It requires time, effort and commitment to achieve milestones and success.
Acceptance that everyone is unique and therefore there is no fixed 'blueprint' to success.
Everyone experiences some success and coaching positively builds on the strengths of the individual.
Provides opportunities to self reflect to find and understand yourself
The individual is allowed to navigate in their own direction and to find their own solutions.
Listening is a key component. Coaching involves being able to listen and 'see' things from another's point of view.
Building positive relationships. The individual must trust in the coach. The coach therefore must create a secure and safe environment where the coaching is confidential, non judgemental and non critical.
Opportunities are provided to plan strategies to move forward. Small achievable manageable milestones are created that provide sufficient challenge for individuals to operate outside their comfort zone.

You can only coach someone who wants to learn or grow
Without a person's desire to improve there is little purpose in coaching. If a person believes that they have nothing to improve it will be like moving an immovable object. An individual needs to be open minded and willing to question themselves and operate outside their comfort zone. The best people, to engage in coaching, understand that they'll never know enough. They challenge themselves to get better and improve. They insist on finding new ways to learn and grow, because they understand their growth determines who they are—and, ultimately, the success of themselves.
How can iP support the development of a coaching culture?
Teaching, as with many other areas in life, has been supported by the coaching model for some time now. Coaching is often implemented across the whole team:-
Coaching new teachers: Probation for new staff, NQT, ITT
Instructional coaching for existing teachers
Peer coaching for teachers: Teachers teaching teachers
Video coaching for teachers
Whichever teams across your organisation receive coaching, there are several tools, features and functionality in iP to make this a stream-lined, paper-free and well-oiled process:-
Coaching forms
Self-Reflection forms
Adding a coach as a Collaborator
Coach/Coachee discussion/blog
Coach/Coachee online sharing of documentation
Areas for Development
Self-reflective and coaching video annotation tool
Catch-ups/Interim Reviews
Coaching forms and Self-Reflection forms
Any form can be created bespoke for your organisation based on the types of development an individual may be involved in:-
a) a single coach supporting a single coachee
b) a triad or lesson study group of coaches who are calibrating their observations - allows them to compare their findings
b) a coachee completing a form as a self-reflective activity - essential to outcome of coaching
Just send in your forms to us and we will create them, taking into account the data you wish to analyse as a result. Carrying out any type of observation is simple and intuitive. Paper is removed from this process and the results are automatically collated for the coachee, the coach and the SLT to gain information across the teaching staff. Information can be collated and filtered; for example, departments, dates and particular coaching form. Coachees can be analysed as a group and which enables you to see a picture of where you are at any point in time.
Transparency enables leaders to identify strengths and areas for improvement within teaching.

How do you create a Form or Survey in iP?
Simply review any existing forms you wish to use on iP and email them to us at customercare@derventioeducation.com We'll do the rest!

Adding a coach as a Collaborator
By default, a line manager sees the appraisal area for the staff he/she manages. It is good practice to also set up a coach as a Collaborator in the coachee's staff work area to ensure the coach can fully support in appropriate areas. Collaborators can be set up to view and edit selected sections of a staff member's 'My Work' area.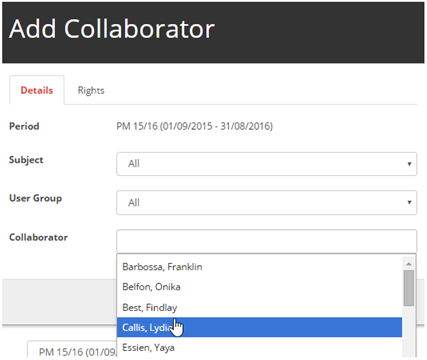 Collaboration can now occur in the areas they have been given permission to view/manage.
The Coach/Coachee blog
The blog section provides an ongoing activity feed/conversation between a coach and coachee alongside their regular professional discussions.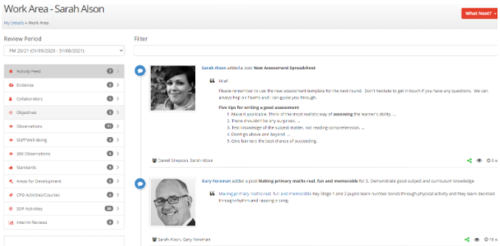 When a blog entry is added to the system, an email will be sent to either the coach or coachee depending on who added the entry. The benefit over emailing is that all relevant information is in one place and can be linked to objectives, coaching forms, and Areas for Development.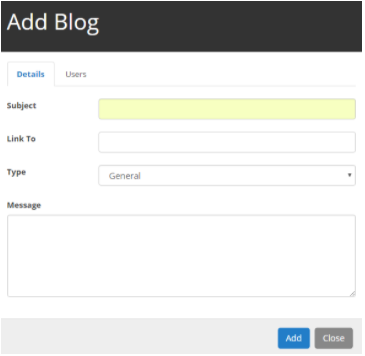 Coach/Coachee sharing of documentation etc.
Information sharing is an important aspect of all school/college professional life, but especially if a member of staff is going through a coaching programme. Many iP schools and colleges are using this functionality to give total clarity and to keep all relevant information in the correct place; the appraisal area.
Complete the details….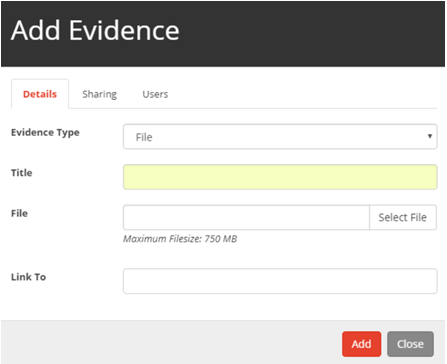 ...and share…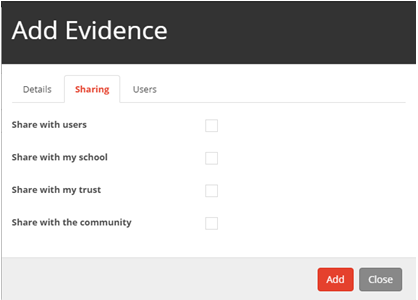 Areas for Development
The Areas for Development tools keeps all developmental suggestions in one place and gives total clarity to the coach, coachee, line manager and SLT. The Areas for Development is a place that collates suggestions from not only coaches but line managers, observers and the staff member themselves.

All can contribute to the Areas for Development list. These can be identified on coaching observation forms or can be entered directly into the Work Area of the coachee.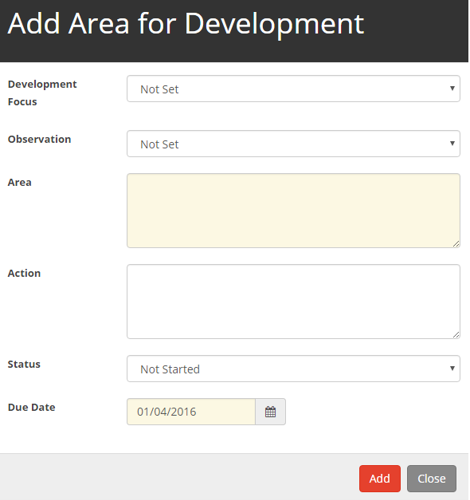 Self-reflective practice and coaching using the video annotation tool
Many practitioners are now used to using video in their practice in one form or another. Many are now professionals at teaching over Zoom/Teams, recording teaching live or pre-recording to share with students.
Those with successful coaching programs embedded in their organisation also see the benefit of utilising video to reflect on performance, get feedback, and to objectively measure progress. For many months due to the Covid19 pandemic, coaching has also been logistically challenging.
The tool will allow the user to:-
Be objective – make annotations against time-stamps in the actual video
Share the video and annotations – have an online discussion with a coach
Time and distance shifted – recorded lessons can be discussed at any time and sent to a coach to view and respond when feasible
Link to a coaching form - allowing the coach/coachee to complete a form to 'calibrate' against a guide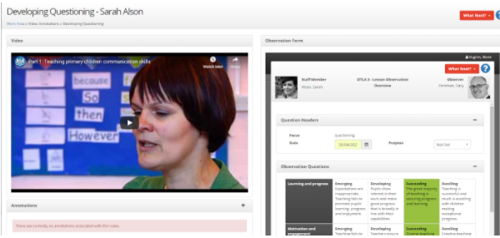 Recording the progress of a coaching programme using catch-ups/Interim Reviews
Interim reviews can take place at any time throughout the year and as frequently as is necessary. A 'snapshot' of all of the data in the staff member's Work Area' is recorded alongside the opportunity for both staff to record free text. By default, the line manager has the rights to start an interim, and usually uses this tool to record casual catch-ups for appraisal or for more formal half yearly interim reviews.

However, given the correct collaboration rights, this tool is essential also for the coaching programme. Conversations can be captured and notes taken. Some organisations take advantage of our bespoke service to re-name this area to check-ins, supervisions or indeed any other title that is more meaningful to their organisation.
Find out more
Talk to our team today to find out how Derventio Education software can support you and your colleagues.
Book a Demo