"CollegeiP is so easy to use and it is so effective for us!"
Huddersfield New College is one of the most successful inclusive sixth form colleges in the country. The Ofsted rated outstanding college in Yorkshire caters for over 2,400 students aged 16-19. Maria Dean, Director of CPD, discusses why the college chose to introduce CollegeiP to ensure they continue to perform at the highest standards through the implementation of a simple platform to help the college manage staff development, observations of teaching and learning, and college improvement processes by seamlessly integrating their Self Assessment Report and Quality Improvement Plan.  
What did you utilise before CollegeiP?
Before we implemented CollegeiP we didn't have an integrated online system in which we could store all of our key college performance data, such as CPD, lesson observation outcomes and Performance Management. All of this information was stored in various paper based and/or electronic formats which were not easy to track or interrogate and even more difficult to integrate. Whenever we would need to create and analyse reports, it would be a very time consuming task to go through all of this paperwork.     
What attracted you to CollegeiP?
We love how CollegeiP can be tailored very easily and as such supports the way we operate as a college.

Maria Dean, Director of CPD
The simplicity and ease of use of CollegeiP is what really appealed to us. We had previous looked at and used other systems on the market but found these to be labour intensive and staff were not on board with using them because they naturally could not see how something that would take time to navigate could possibly help them to be more effective and save them overall.  It's clear that CollegeiP has been developed with the user in mind; it's designed in such a way that makes it very intuitive to use and incorporates all the areas you would expect and need. 
In addition, we love how CollegeiP can be tailored very easily and as such supports the way we operate as a college. The product itself isn't fixed; it's constantly updated with new features, many of which have been put in place based on what we have asked for and these developments have been completely free of charge. We have also taken advantage of the fantastic (and free!) online support which has been perfect for ensuring we embed the system into our college effectively. The support team are always available at the end of the phone, email or even live support whenever I/we have needed them. 
Derventio Education pride themselves on the fact that CollegeiP and its sister products SchooliP and UniversityiP are developed on the back of customer requests. We have our own in-house development team which ensures that all of our products are updated in line with the latest education changes and/or requests made by our customers.
What benefits do you now see as a result of CollegeiP?
CollegeiP has joined everything together for us in a way that has not been possible before; we're running our teaching and learning observations schedule through the system and it is proving to be an efficient and effective system.  All of our performance management processes are also now within the system.  CollegeiP is acting as the software backbone for managing our quality improvement plan. All within the software, we can manage our core Self Assessment Report and our departmental and whole college Quality Improvement Plans.  All of the different facets of our business link together explicitly within CollegeiP.  The areas are integrated and without having a software system in place we would have continued to experience difficulty in integrating our multiple processes. 
We also use CollegeiP to manage our professional development, including CPD/Training. The software allows us to very easily audit the impact of CPD and expenditure, which ensures we can very easily account for and justify all expenditure on CPD and training. Previously we recorded such information in an Excel document, which was difficult to maintain and navigate with so many staff members.  CollegeiP has been revolutionary in that it is so easy to input and extract information and I can now sort all CPD activities based on a range of different criteria and display this information however I wish, whether by name, by who's spent what or by particular activities or themes.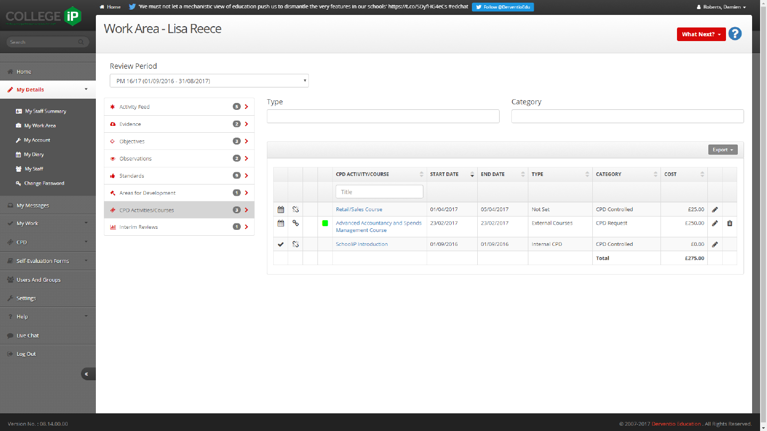 As the system is online, staff can access it wherever they are. We have added a link to our staff portal, which means that staff can access the system very easily and add evidence or engage in professional dialogue whenever they want or need to.
How has CollegeiP helped you with your observations?
One of the biggest challenges with a paper based system is the uncontrollable paper trail, with many documents and folders; this is an overly bureaucratic system.  With CollegeiP all of this is eliminated; I can go on and look at lesson observations in digital format, sort data using filters, dates or any criteria I wish to use and instantly I am provided with comparisons and evidence I need without having to pull this information together manually, which has already saved significant amounts of time.
An example would be that I can very easily assess and compare the grading for observations. I can see that last year, we had 18 outstanding graded observations and I can see straight away that this year this has increased to 20 outstanding observations. I can then use this information to analyse why this has happened, as evidence and performance data is linked against these observations and available in front of me within CollegeiP. In addition, I can quality assess our observations; if too many (or too few) are being graded as 'outstanding' I can then check our observation processes to make sure that when we're inspected, our internal assessments are aligned to what an inspector would be looking for.
The Derventio Education team, creators of CollegeiP, developed a bespoke 'Aspects for Learning' table within the software which allows our observers to complete observations, in real time, and utilise the triangulated approach we utilise in order for a lesson to be observed as 'outstanding'. We have 6 observation leads, who observe on average 15 lessons each and they would previously have to manually collate their findings into reports. Now, with CollegeiP, all observation information and evidence is documented and transposed into simple charts, which is a more efficient way of working as I no longer have to read through 15 reports; I can glance at a snapshot via the charts and see all of the information I need.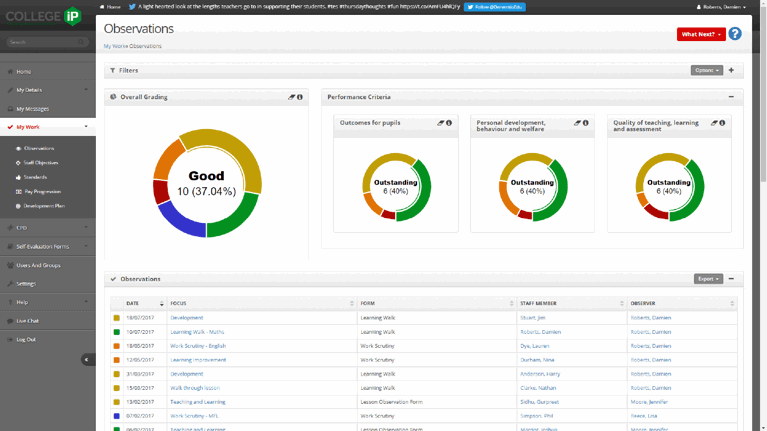 What would you tell another College if they were considering CollegeiP?
I'd say definitely look at buying it! I recommend CollegeiP to local colleges and schools – I literally rave about it! It's so easy to use and so effective and one of the biggest bonuses is the positive reception we have had from staff, who were onboard with using it within a week!