"Specific CollegeiP online training is available free of charge."
Burton and South Derbyshire College
Burton and South Derbyshire College has been a CollegeiP customer since 2015. The college caters for a complete variety of learners. Courses can be full or part time and programmes range from basic entry level study to degree level qualifications. Here we look at how Ruth Redfern who is the People and Performance Business Partner at Burton and South Derbyshire College is pleased with the level of service received as a CollegeiP customer.
Dedicated Account Manager
Our regional account manager has enabled Burton and South Derbyshire College to unlock the power of the CollegeiP system and transform their approach to performance management.
Through friendly, efficient and personable service, the CollegeiP representative has helped us unlock the system to become something which will be truly transformational for the College.

Ruth Redfern - People and Performance Business Partner - Burton and South Derbyshire College
Keeping in touch
Each one of our customers is assigned a dedicated account manager which enables regular contact with customers to be maintained. This helps to maximise the potential of our products and ensure that customers are satisfied with the level of support that they are receiving. Technical support is available from our team of software engineers via the telephone and online chat facility. Specific online training is also available which can be requested by users. This training and support is provided free of charge and we pride ourselves on a personal touch that is solution led.
Their personality has meant that they feel like an extended part of our team and I know I can rely on them for great advice. I have complete faith in their abilities and look forward to our meetings as I know that they will result in positive outcomes. They always have a smile on their face and working with them is truly a pleasure.
Bespoke elements of CollegeiP
By allowing elements of CollegeiP to be bespoke to individual establishments, we can meet the unique needs of each customer. Our knowledge of the education sector means that we are aware of the idiosyncratic nature of different colleges. This can include incorporating college specific standards and lesson observation proformas into CollegeiP.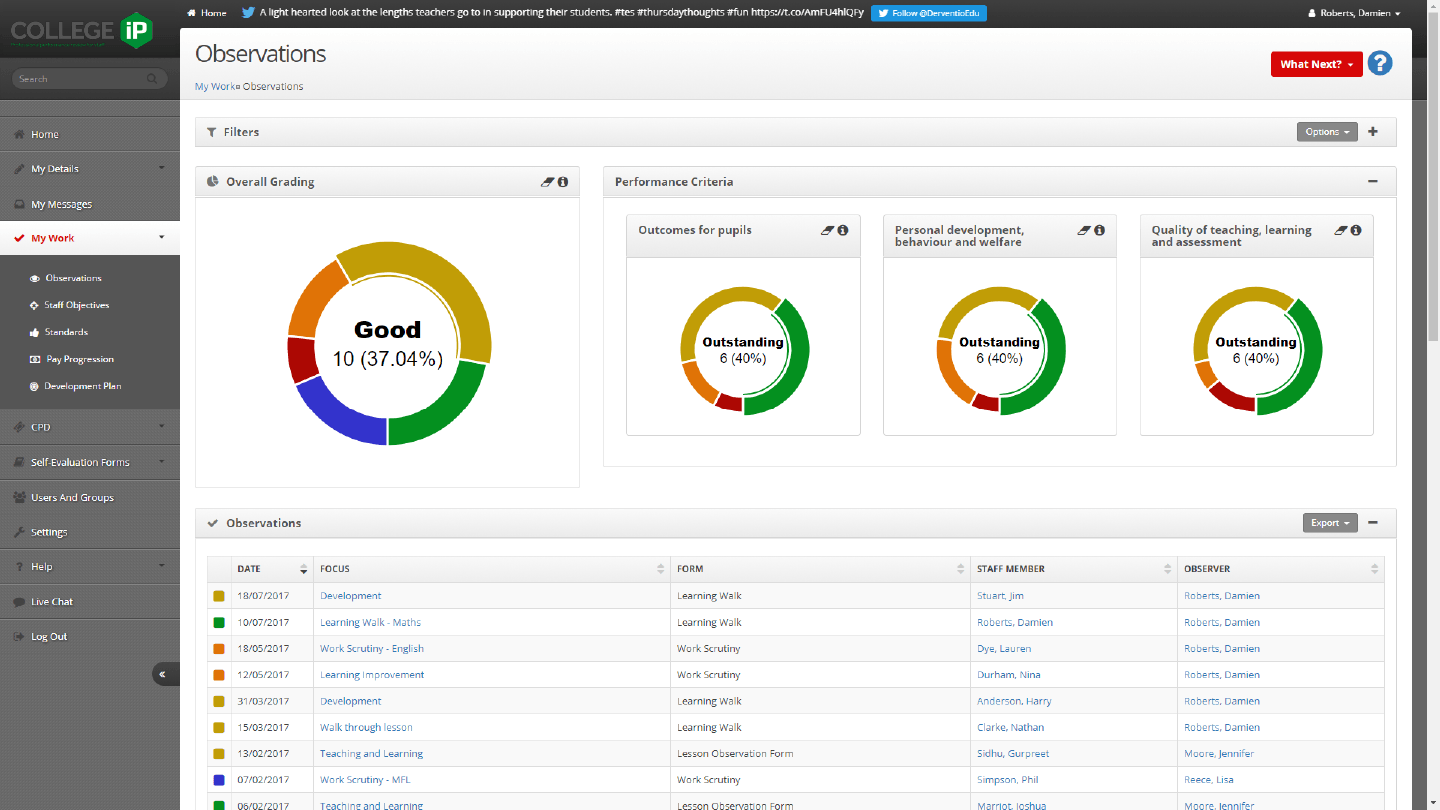 Being a Further Education College that also provides Higher Education courses and manages an Academy Trust, we have complex needs when it comes to our performance systems. Thanks to their excellent knowledge of our sector, I am able to have quality conversations without the need to upskill them before they can understand our requirements. This saves us all time and improves impact.
Summary
CollegeiP engages all staff in their professional development and we are proud to offer a comprehensive network of support to our customers.