"Before CollegeiP, we had an idea of our collective strengths and areas for development."
Barking and Dagenham College
Barking and Dagenham College is a further education college in Romford, Essex and is home to 12,500 students and 653 staff. CollegeiP is successfully used to manage all their staff appraisals and CPD processes. We are delighted that our solution is proving to be a useful tool for the college leadership and staff in such a large organisation.
HR Business Partner, Chris Formosa oversees CollegeiP at Barking and Dagenham College and enjoys a comprehensive overview of staff performance. Individual staff reviews create a wealth of information that is used to inform strategic decision making. Chris is very complimentary when speaking about CollegeiP.
The system is well designed and creates efficiency in a number of College processes, most significantly for us in the observation and appraisal process. CollegeiP provides excellent data which help us track our progress on our overall objectives.

Chris Formosa - HR Business Partner - Barking and Dagenham College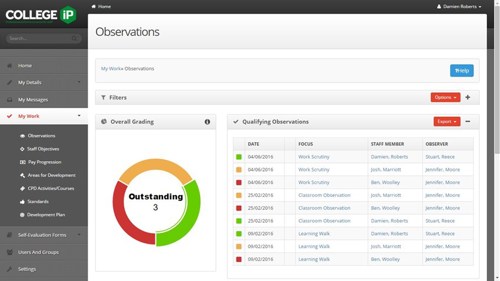 Barking and Dagenham regularly carry out staff monitoring. Previously these processes were paper-based and extremely time-consuming. WIth CollegeiP, lesson observations, learning walks and work scrutiny are all carried out in real-time on a tablet or laptop. The solution also includes a video lesson observation function. As soon as feedback is entered, data collates automatically into informative reports. These reports can be analysed and patterns for departments, faculties and the college as a whole are easily identifiable. 
CollegeiP has helped to improve teaching efficiency and productivity. We have streamlined our observation process and created a much closer link to managing performance. Before CollegeiP, we had an idea of our collective strengths and areas for development. Now processes are much more structured and we can make decisions based on accurate data.
Bespoke functionality is where CollegeiP really comes into its own. Any monitoring forms can be integrated into the system to meet user requirements. 
We have established a specific observation form new members of staff on our CollegeiP system. This helps them to successfully complete their probation and the form is tailored to the competencies required in the classroom.
Staff at Barking and Dagenham College enjoy an appraisal process that focuses on their needs. CollegeiP elevates the importance of this essential staff development tool. Staff can be rated against professional standards which helped them to identify where areas in which they can develop their skills. When this data is looked at collectively, CPD/INSET requirements can be identified which helps to plan sessions to develop staff. CollegeiP is also used for managing training requests at the college. 
All paper has been removed from the process. As well as leaders identifying training needs, staff members can request CPD by quickly outlining the training provider, date and costs. This immediately informs their line manager, our CPD co-ordinator and Executive Director. Approval can be quickly granted and this is a slick process.
We are delighted that CollegeiP is having such a positive impact at Barking and Dagenham College. Chris is a satisfied customer and we are proud to be assisting staff to further their development. Chris welcomes anyone to make contact and visit the college to see CollegeiP in action and fully understand the positive impact it has had in improving the processes at Barking and Dagenham. 
I look forward to working with CollegeiP for the foreseeable future.
If you would like to experience the benefits enjoyed by Barking and Dagenham College, please contact our sales team on 0333 0433 450 or email: info@derventioeducation.com. Alternatively, click here to arrange on onsite or online demonstration of CollegeiP. Please note that CollegeiP subscriptions include free of charge online training and a dedicated account manager. Further case studies can be found here.