"Users are able to enjoy an immediate network of advice, support and opportunities. "
BUFDG - Website & Cloud Based Document System
Derventio Education provides a comprehensive content management system for the British Universities Finance Directors Group (BUFDG) via our CELSUS platform. This is a long-standing relationship that began in 2014. Our software solution enables BUFDG's 3,500 members to engage with each other and access an online community. Members include the Directors of Finance and Chief Financial Officers of almost all UK Higher Education institutions.
BUFDG is the recognised channel for the provision, analysis and dissemination of information to members/stakeholders. The platform contains a large amount of pertinent information on training and financial news. The search function allows users to immediately find the information they require in order to save valuable time. Available training courses can be booked online and electronic payments can be made.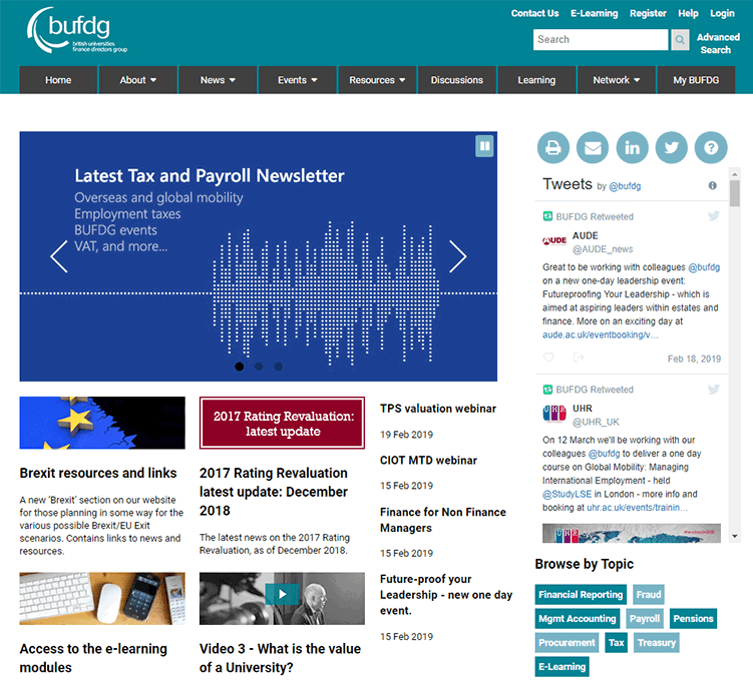 Our bespoke development work allows BUFDG to firmly meet their objectives. Every member has their own BUFDG account where they are able to enjoy an immediate network of advice, support and opportunities. Data is intelligently linked to facilitate streamlined browsing. There is a forum where members have to the ability to comment on matters of financial strategy and Higher Education management. This encourages a social aspect to the site and helps to disseminate best practice on financial management.
We are proud to have developed a content management system that promotes best practice in accounting, auditing and financial management in Higher Education. Our content management solution means there is greater collaboration and cohesion amongst BUFDG members. Overall, BUFDG enables high standards to be maintained.
BUFDG is a member of the Professional Higher Education Services (PHES) group. We also provide similar sites to the Association of University Directors of Estates (AUDE), Higher Education Strategic Planners Association (HESPA) and Universities Human Resources (UHR). If you are seeking a content management system, please make contact with our sales department on 0333 0433 450 or email: info@derventioeducation.com. Alternatively, click here to arrange a demonstration.
Find out more
Talk to our team today to find out how Derventio Education software can support you and your colleagues.
Contact Us