"Bespoke, tailored solution that was flexible to our needs."
Manor Church of England Academy
Profile
Mike Thunder, Vice Principal Manor Church of England Academy, a coeducational secondary school in York, have implemented the integrated performance management software SchooliP and are now seeing the extensive benefits. The former Specialist Arts College and Leadership Partner School, with over 1.000 students on roll and 140 staff members, can now seamlessly integrate Performance Management, Self Evaluation and Continual Professional Development (CPD) in one, easy to use system. Mike Thunder, the Vice Principal, oversees Staff Training Welfare,and Standards, explains why they decided to join hundreds of other schools utilising the SchooliP software.
Mike initially shared:
"We previously had a paper based system which meant, inevitably, paper would go missing, it would not always be to hand when you needed it and wasn't easily accessed. Staff didn't always know what their targets were and there was a lack of monitoring."
One of the things that attracted the academy to SchooliP, is the fact that it is cloud based, and acts as a centralised location for all staff to quickly and easily access all the information they require. The configurable user settings have ensured that each staff member only sees information relevant to them, such as their own objectives, reviews for members of their team, and much more. Staff can easily update all of their activity with regards to their objectives, including upload evidence, plus the system sends handy reminders against actions they need to carry out.
Mike went onto explain why they chose to use the SchooliP software:
"We reviewed other systems but the SchooliP solution and the SchooliP team really stood out to us. They were keen to work with us and took the time to understand exactly what we were looking for the system to do. Over several visits to our School they explained how the software could work for us and gave us examples of how other schools were using it. We were also attracted by the fact that their in-house development team make enhancements to the product based on customer feedback".
Mike continued:
"SchooliP offered a bespoke and tailored solution that was flexible to our needs incorporating key elements of School Improvement such as Performance Management, Self Evaluation and Staff CPD. The software is also updated regularly in line with School, Education or Government changes, as well as those from OFSTED and others."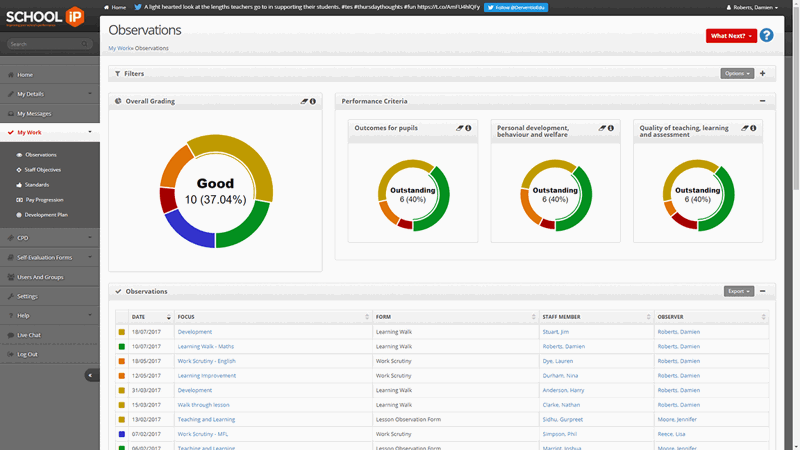 The sheer flexibility of the SchooliP solution also appealed to Manor C of E Academy:
"We liked the fact we were able to introduce a new grading system after the latest OFSTED changes, thanks to the flexibility of the system"
Mike then went on to discuss monitoring lessons by saying:
"We can keep records of drop-ins and lesson observations with manageable forms that are easily accessed and stored within SchooliP."
Lesson observations can be recorded in real time via a laptop or ipad, directly into the system. Managing CPD was a huge focus for the academy when selecting a solution and Mike is delighted with how SchooliP facilitates CPD for all staff.
"The monitoring of CPD and who was doing what, previously meant me spending vast amounts of time filling out a spreadsheet for everyone. However, now with SchooliP it's a quick, easy and collaborative effort whereby staff can fill out their own CPD and take ownership of it. SchooliP ensures we have a record of all CPD activities and Performance Management for ALL staff not just teaching staff."
Staff feel empowered by the ability to build their own portfolio of CPD within the SchooliP system. Mike was excited to share:
Information is quickly and efficiently produced within a report which we share with school leaders and governors.

Mike Thunder, Vice Principal
"We added an 'impact box' to our CPD section within SchooliP which allows us to measure the result of spending on CPD for individuals and groups. This information is quickly and efficiently produced within a report which we share with school leaders and governors, enabling us to provide accountability for our spending. More importantly it also allows us to demonstrate the impact of CPD activities against teaching and learning, and school improvement."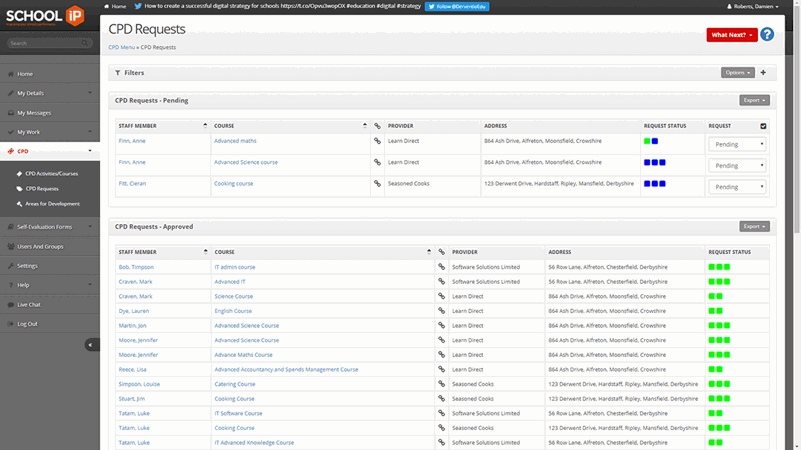 Manor Cof E Academy has joined the many other SchooliP users who love this feature within the solution, especially the time and effort it saves them.
"I'm not IT Savvy" said Mike "but with the support of SchooliP any issues we had were easily overcome. The Derventio Support Team (creators of SchooliP) are great at helping us - even when we were not quite sure what we need! Claire the training manager is fabulous - she can bring up our system and see precisely where we have been going wrong and solve any problems. The manual is also a useful addition to the help functionality throughout every page of the software but for anything where we're not sure, we simply ring the support team and they are always able to help quickly (and it's free which we feel is an added bonus)."
We asked Mike where are they now as a result of implementing SchooliP he told us:
Our processes are much more efficient than they were previously. All staff save valuable time and effort.

Mike Thunder, Vice Principal
"We have found SchooliP very useful and an integral part of our School. We now have all of our PM Objectives online so that they cannot be mislaid. In addition, the lesson observation forms have been easy to adapt to our needs and again being able to access them online is very helpful. Nobody has come banging on my door asking for their Objectives or CPD evidence as it can now all be accessed online by themselves"
- Mike breathed with a sigh of relief!
"The overall impact of SchooliP for our academy means that our processes for managing performance management, CPD, our development plan, and our SEF, are much more efficient than they were previously. All staff save valuable time and effort. I do feel that the real benefit is the ability to quickly and simply generate reports. This enables us to not only access vital information easily but also to share it with our stakeholders including staff members, governors, and others."
We look forward to supporting Mike Thunder and the Manor Church of England Academy with their SEFs and School Development Plans in the future.
Find out more
Talk to our team today to find out how Derventio Education software can support you and your colleagues.
Contact Us