"SchooliP allows best practice to be shared and progress to be easily tracked."
St Joseph's RC High School
In conversation with Jackie Jarrett, Headteacher at St Joseph's RC High School in Newport, Wales, we asked how her colleagues find using SchooliP.
We really like the triangulation of performance management, self-evaluation and improvement planning. We find the support systems easy to access and extremely helpful.

Jackie Jarrett - Headteacher - St Joseph's RC High School
Prior to using SchooliP, Jackie informed us that the appraisal process was managed via a combination of paper files and electronic folders. St Joseph's RC High School was attracted to SchooliP owing to its easy to use interface. In discussing the benefits of SchooliP, Jackie espoused the following.
All key documents are in one place and everyone can have one single access point to what they need. SchooliP allows best practice to be shared and progress against targets to be easily tracked.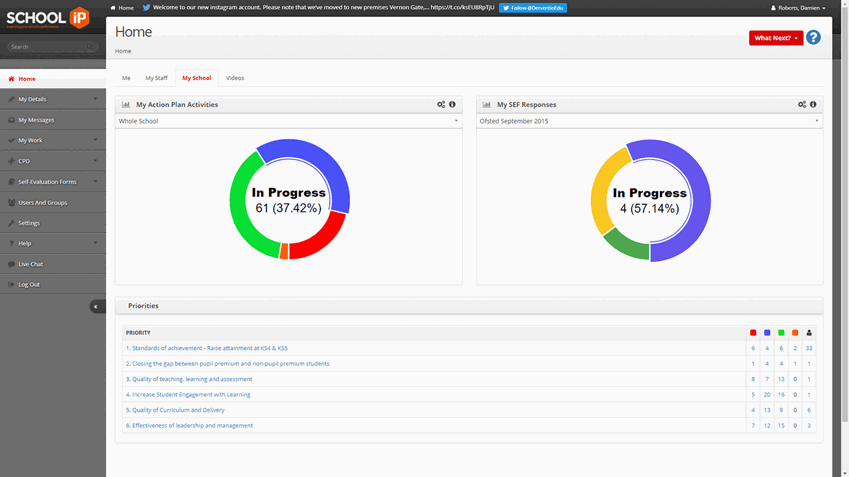 Collaboration is a key selling point of SchooliP. The sharing of best practice amongst colleagues is actively encouraged within the software. This helps to establish a culture of shared experience and dialogue. In implementing SchooliP, Jackie observed there was some initial resistance from staff.
At first, staff felt that the system might be another layer of bureaucracy. However, implementation was strategically planned and training was provided.
We are proud to offer free of charge training to our customers. Also, we can arrange training onsite, if required. The success of SchooliP at St Joseph's RC High School has enabled performance management to effectively link departmental and whole school improvement plans. This all encompassing approach to professional development has proved very beneficial. Interestingly, Jackie first encountered SchooliP on Twitter. Please do follow us on Twitter to keep up to date with our latest news.
To conclude our conversation with Jackie, we asked her to summarise her SchooliP experience in a single sentence.
School improvement becomes transparent and shared by all staff.

We are really pleased that St Joseph's RC High School is enjoying a whole school approach to performance management. We know that SchooliP is the simplest and most effective way to manage staff appraisals in schools.
If you would like to find out more, our friendly sales team would be delighted to answer any queries that you may have. We can be contacted on 0333 0433 450 or info@derventioeducation.com. Alternatively, click here to arrange a demonstration of our product.
Find out more
Talk to our team today to find out how Derventio Education software can support you and your colleagues.
Book a Demo