"The SchooliP software can be used for ALL levels of staff, not just teaching staff."
Profile
Rivermead is a community special school for young people aged 11 to 19 years with a range of complex needs – with over 100 learners at the school. Rivermead have been using SchooliP for over two years, Mandi Uden, Deputy Headteacher, discusses how SchooliP has been integral to creating a successful professional development process for Rivermead and why they 'love it'.
How did you manage your professional development before SchooliP?
"We previously had an archaic paper based system whereby the performance management meeting would be held, outcomes written up and this would then disappear into the ether and was never mentioned again for 12 months. Staff felt like they only did performance management 'because they had to' rather than being actively engaged in their performance throughout the year.
With the paper based system it was very difficult to get a whole school overview of performance and see how this linked to school improvement. Everything was very disjointed."
What attracted you to SchooliP?
SchooliP can be used for ALL staff not just teaching staff.

Mandi Uden, Deputy Headteacher - Rivermead School

"SchooliP allowed all staff to take complete ownership of their performance management. Staff can upload evidence throughout the year, removing the last minute panic! We have now used SchooliP for two cycles and have found that people are really engaged with uploading their evidence, and the evidence that they do upload is more purposeful.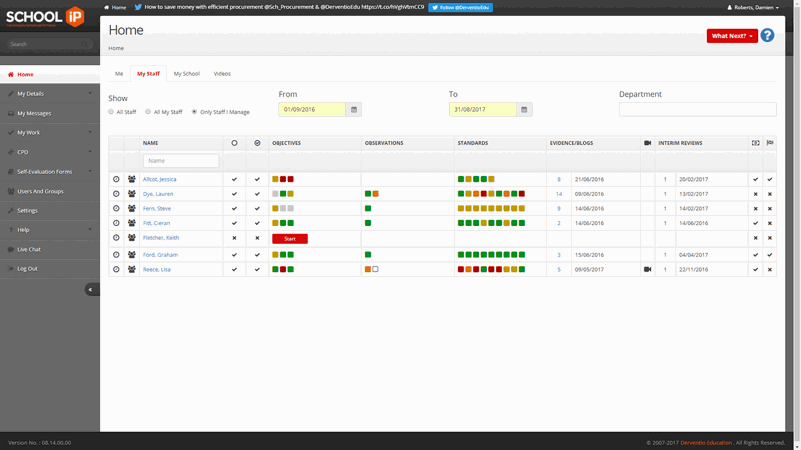 SchooliP can be used for ALL staff not just teaching staff. We use SchooliP for site staff, canteen staff, TAs – all the way through the school up to the headteacher! Absolutely everyone is on SchooliP for their performance management."
What benefits do you now see as a result of SchooliP?
Having completed last year's performance management reviews on SchooliP, as a result 99% of staff passed their review!

Mandi Uden, Deputy Headteacher - Rivermead School

"Having completed last year's performance management reviews on SchooliP, as a result 99% of staff passed their review! As all evidence is there, automatically linked to their objectives, it makes everything very easy when it comes to pay reviews. It's clear to see what evidence is there and that it is sufficient, plus all line manager comments are there too! It's an ideal system for ensuring accountability and having an evidence trail showing how you have been supporting staff. All information and evidence is available in one place, plus you can access information from previous years without having piles of paper around.
SchooliP supports teaching staff by providing a platform to store all types of evidence which in turn offers security should any data not match expectations. Teaching staff don't have to worry about justifying reasons, as this information can be found in SchooliP.
I really love the reporting functionality, I can ask the system to very quickly run reports for governors or other stakeholders. I don't have to do any calculations which makes my life so much simpler. Plus any reports can be easily broken down to key areas such as observations and the system automatically shows what percentage of these are on track - all within SchooliP.
You can do observations, lesson studies, learning walks, book scrutinies and all of this information is recorded in one central location. It's a far simpler process whereby everyone is involved not just a couple of key people and everyone is in charge of their own performance management.
If people are given responsibility they are more engaged with the system. Responsibility is shared with ownership being in the hands of the reviewee as opposed to traditionally just the reviewer."
How did you ensure staff were onboard?
"We have found that the best way to get staff on board with the system is to utilise the onsite training. We were able to talk through the system as a team and learn as a team. The face to face support matched with physically using the system at the same time has really ensured the success of SchooliP for our school.
I also champion SchooliP in my school and staff know that if they ever need any assistance I am here to help. Nobody feels under pressure to do SchooliP alone and the system is very intuitive with excellent support so nobody has any reason to be frightened. We have found that having a teaching member of staff to champion SchooliP has really ensured everyone is onboard."
All online training and support is completely free and unlimited for the life of your SchooliP subscription. We also have a dedicated training team who are available to come to your school and run sessions with key staff or even the whole school.
What has been the secret to the success of performance management in your school?
"As a school, we have implemented one dedicated session per term, which is within school time, for staff to upload or update any performance management information. This means that staff do not have to use their own time to manage their performance. As a result, this makes performance management part of school processes and as such a school expectation.
We have found that using SchooliP as part of this is far better than the old paper based system. We don't get the end of year review comment 'I can't remember what I did'. Everybody is adding evidence and engaging in performance management conversations as part of an ongoing process. I smile to myself when I get an email saying a member of my team has uploaded evidence. Teachers really engage with it and even the TAs get fully onboard.
As part of our staff induction package, one of their sessions is to sit with me and talk about SchooliP. From their initial introduction, I talk through the system, how it works, talk about who their line manager is and set them up with their 1-2-1 meetings. I also set some basic targets, even if it's to learn their way around the school, just so they can see exactly how the system works and they're engaging with the system from the outset."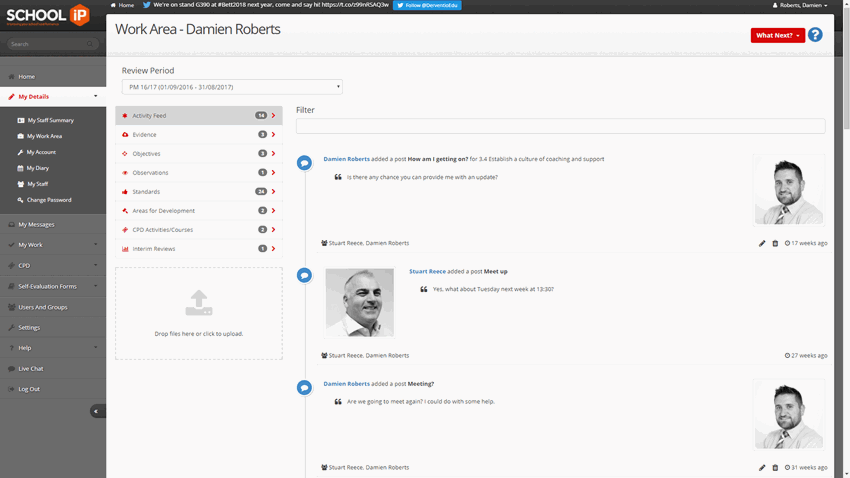 What would you tell another school if they were considering SchooliP?
It's an all in one package that really does suit all your needs.

Mandi Uden, Deputy Headteacher - Rivermead School

"SchooliP is worth the investment. It saves time, saves paperwork, it makes processes slicker plus the mobile app means that you don't even have to be at a computer. It's an all in one package that really does suit all your needs.
At the end of the summer, the SLT sit down and go through all of the completed performance management reviews and we then do the pay reviews. It just works well as a system for us and we love it!"
Find out more
Talk to our team today to find out how Derventio Education software can support you and your colleagues.
Book a Demo