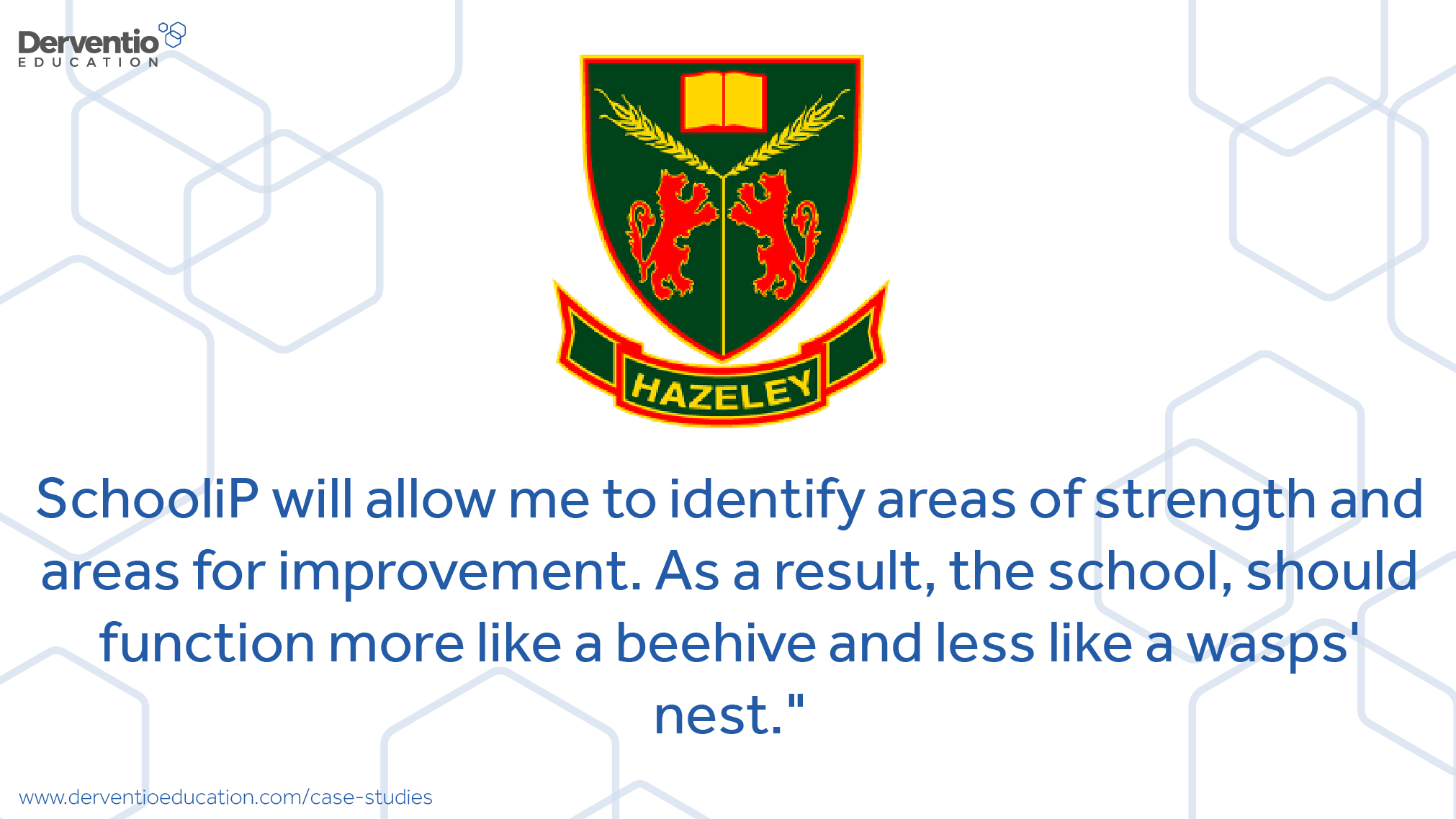 Mark Bennison joined the Hazeley Academy as Principal in 2009. The school was just 4 years old and had already achieved a 'Good' grading with outstanding features from Ofsted. Mark's previous roles had seen him turn around schools that 'required improvement', were 'inadequate' or in special measures.
Mark realised that the challenge of taking a school from 'good' to 'outstanding' is potentially even more of a challenge: there are no 'easy wins' and the improvements need to be systemic. He believes that failing to do so can jeopardise future gradings, especially if one or more of the senior team move on. Although having previously been a fan of improvement planning systems, he assumed that he would not need one at Hazeley.
Mark soon realised that although teaching and learning at the school was good, it was 'pedestrian' in many respects and ambitions were not high enough for his liking. Although classroom behaviour was good, he felt that many students were too dependent on their teachers and a culture of independent learning needed to be fostered.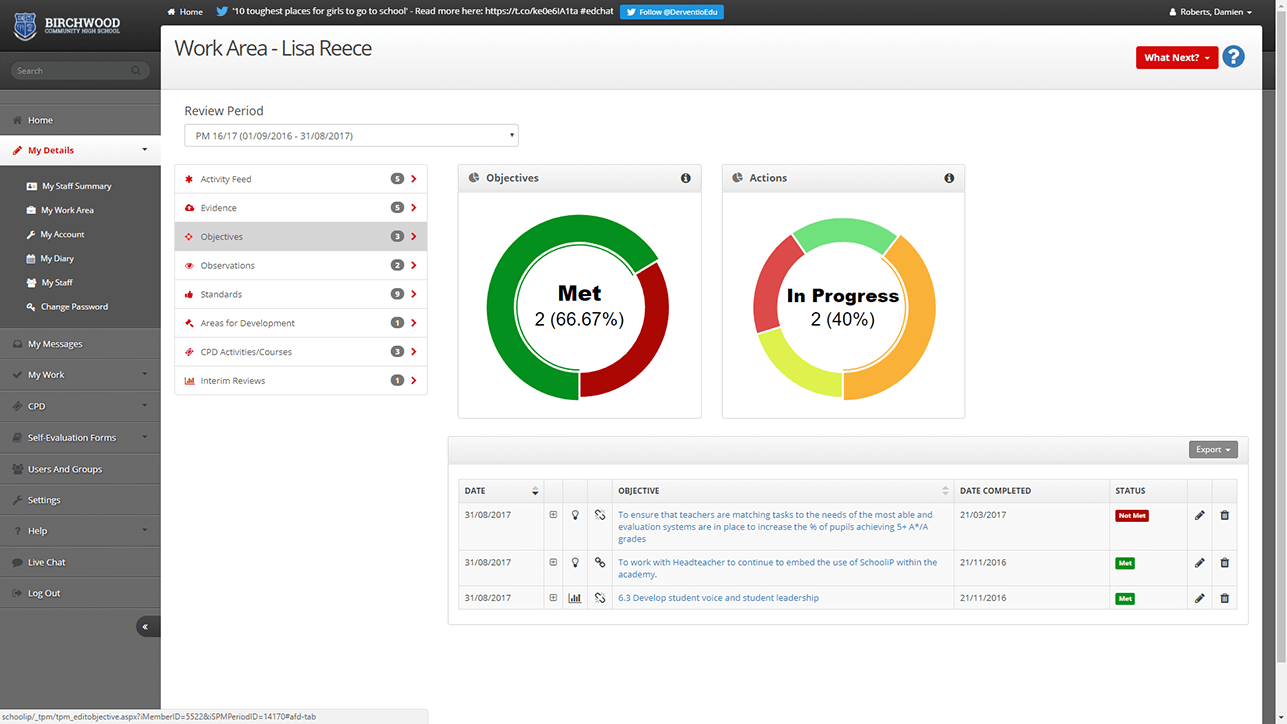 After his initial belief that a software system would not be needed, he soon began to question that assumption. Although he had been using a software system previously, he had some reservations about its usability and the extent to which it effectively integrated the various aspects of self evaluation, improvement planning and performance management, including CPD. After seeing the SchooliP system at a SSAT conference, he decided to take a free trial and was immediately impressed by its ease of use and particularly the power of the Performance Management module. Mark has recently trained as an Ofsted Inspector himself so could see the benefits of purchasing the system.
Mark and the SLT took the decision to purchase the system a term before it would be rolled out to all staff. They decided to use the ASCL self-evaluation form as they felt it was comprehensive, yet provided enough flexibility. The SchooliP Support team imported the SEF and the details of the staff members. The SLT and school governors had already reviewed the faculties' performance and had been working on a short term vision for the school which they had called their 'colour wheel'. The factors covered, quite neatly fitted into the Development Plan within SchooliP. By highlighting just 10 achievable priorities, it was felt that the goals would be more likely to be achieved. The objectives of the senior and middle leaders were input to the system and all of them found it intuitive and rewarding.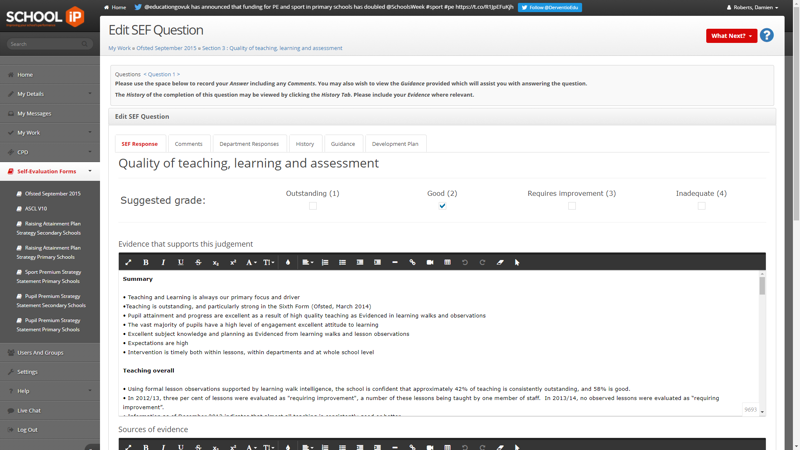 The school is now in the process of adding data and objectives for all teachers and lesson observations will be carried out with the new framework, directly into the system in real time. The school is expecting an Ofsted inspection this year and is relishing the continuing challenge. The system will also be invaluable in providing evidence for the new performance related pay requirements.
SchooliP will allow me to identify areas of strength and areas for improvement. As a result, the school, should function more like a beehive and less like a wasps' nest.

Rod Boswell, Vice Principal
As Rod Boswell, Vice Principal with responsibility for CPD comments, "Particularly with such a large school, all staff objectives need to fit in with those of the faculty and in turn the whole school and rather than being seen as a chore and a 'tick box' exercise, the vision should be shared by all. SchooliP will allow me to identify areas of strength and areas for improvement. As a result, the school, should function more like a beehive and less like a wasps' nest."
Find out more
Talk to our team today to find out how Derventio Education software can support you and your colleagues.
Contact Us